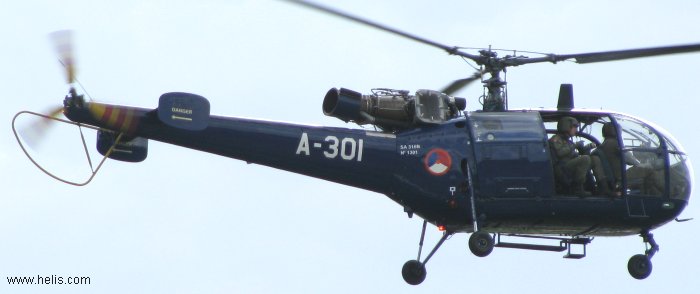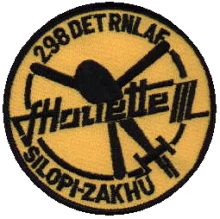 Delivered in the sixties the Alouette has been the main helicopter of the RNlAF for a great many years. After the arrival of the
AB412
,
CH-47D
and
AS532
most have been withdrawn. Just a handfull is still flying.

Last 4 received Farewell Ceremony on December 15, 2015
---
In 1964 the first of a total of ultimately 77 ALouettes III were introduced in the RNLAF, as replacement of the Alouette II and Piper Cub of the Group of Light Aviation (Groep Lichte Vliegtuigen/GPLV). The helicopters performed a multitude of tasks, such as: VIP transport and Royal Flights, free fall parachute training, medevac, photo and film recordings, tactical transports, Forward Air Control, tactical patrols, leading Artillery Fire, Search And Rescue, etc. etc. In 1995, on the arrival of the CH 47 D Chinook, AS532 Cougar, AH-64 Apache and AB 412, the tactical tasks were passed on to these aircraft. However, before all Alouettes were disbanded, it became clear that there were a number of tasks very suitable still for this relatively simple, versatile and reliable helicopter. It was decided to keep a total of four aircraft in service, the A-247, A-275, A-292 and A-301. In 2000 they were overhauled extensively in Switzerland and painted royal blue. At present (2012) the RNLAF is debating wether to keep the aircraft in service untill January 2016, possibly 2018...