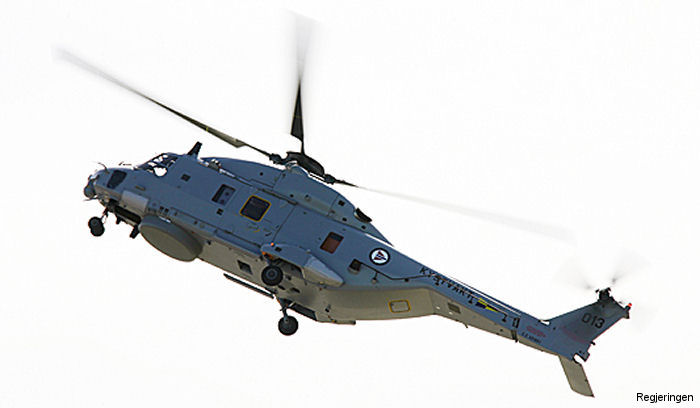 Six
NFH (ASW)
to be used by 334 Squadron from the Fridtjof Nansen class frigates and eight
NFH (CG)
to replace the
Westland Lynx
on 337 Squadron for Kystvakt (Coast Guard) duties were ordered in 2005 but dating from 2001.
Deliveries should have been completed in 2008, but as of 2012 only one aicraft have been delivered and Norway has warned NH Industries that if performance and capability are not resolved could face the cancellation of its order.
As of 2017 only six (in CG configuration) have been delivered. The rest are expected through 2020 with a full operational capability by 2022.
Norwegian NH90s were built by Leonardo in
Vergiate
, Italy.
In June 2022, Norway terminated the NH90 program per se "will never be capable of meeting the requirements".
C/N
Built
ID In this Org
In other Org


1013
2006
013: 013 CSX81691 1013/NNWN01 KYSTVAKT (Coast Guard) also c/n 440013 , Italian+

1027
027: 027 CSX81752 1027/NNWN002 KYSTVAKT (Coast Guard) test serial CXS81752, F+

1049
2011
049: 049 1049/NNWN003 KYSTVAKT (Coast Guard) 2012 at Eurocopter

1057
2012
057: 1057/NNWN004 KYSTVAKT (Coast Guard) 2013 at Eurocopter; 337 +

1058
058: 058 1058/NNWN005 KYSTVAKT (Coast Guard) 2012 at Eurocopter; 337 +

1087
087: 1087/NNWN006 KYSTVAKT (Coast Guard), test serial CSX81745; 3+

1216
1216: 1216/NNWN008 KYSTVAKT (Coast Guard), test serial CSX81751; F+

1171
171: 171 1171/NNWN008 KYSTVAKT (Coast Guard); 337 Skv

1217
217: 1217/NNWN07 ASW for 334 skv, italian test serial CSX81843; A+

1352
352: 1352/NNWN09? ASW 334 Skv d/d 22jan18

1353
353: 1353/NNWN11 334 Skv

1354
354: 354

1358
2019
358: 358 1358 Italian test serial CSX18953