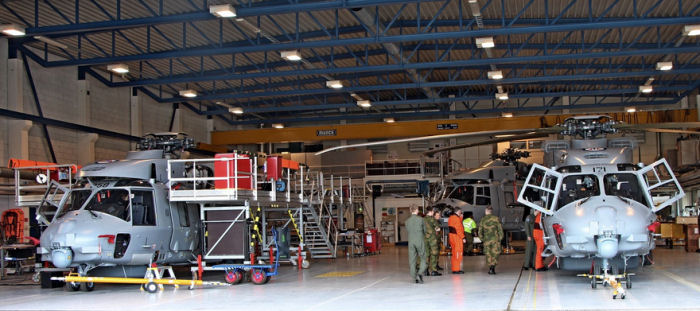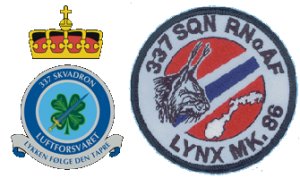 Created with a number in the historic range of the World War II Norwegian units of the UK
Royal Air Force
, the unit went straight into service with the Royal Norwegian Air Force. Provides air and ground crew plus maintenance and facilities for the helicopters of the Norwegian
Coastguard
, as well as deploying aboard its Nordkapp Class cutters.

337 squadron was established at Gardermoen 22 may 1950 as a Fighter-bomber squadron, using De Havilland Vampire FB.Mk.52. In april 1953, 337 sqn. was transferred to Værnes near Tronheim. At this time 337 sqn. also operated a detachment at Bardufoss called Bardufossvingen with De Havilland Vampire F.Mk.3. At the 1 september 1955 the 337 sqn. was again relocated to Gardermoen, now as a North American F-86K Sabre squadron. After 8 year at Gardermoen with the F-86K Sabre, the squadron was disbanded at 1 september 1963. The 1 january 1980 the 337 sqn. was selected as the new operational Coast Guard squadron, with the newly acquired Westland Lynx Mk.86 helicopter. The 337 squadron was now located at Bardufoss with six Lynx helicopter. The Lynx helicopter are operating from the Coast Guard vessels K/V. Nordkapp (W320) K/V.Senja (W321) K/V.Andenes (W322) and K/V.Svaldbard (W303). In the year 2007 the Lynx helicopter will be replaced with the newly acquired NH.90 helicopter, still operated from Bardufoss.

The NH90 were delivered from 2011, being Norway the first country to use the navalized variant. As of 2018, 337 Squadron is based at Bardufoss and employs the 8 NH90 (CG) in support of the
Kystvakt
under command of the navy. These helicopters can embark on 7 coast guard vessels of the
Nordkapp class
, the Barentshav-class and the Svalbard.