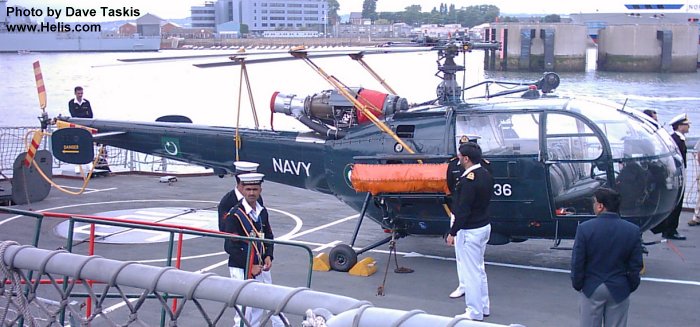 Alouettes are entrusted with the primary task of training pilots for their eventual induction in the Sea King squadron. Besides training, the Alouettes perform such tasks as SAR, command and liaison and visual reconnaissance and are also regularly embarked on ships proceeding to sea.

Additional former French airframes received so late as 2014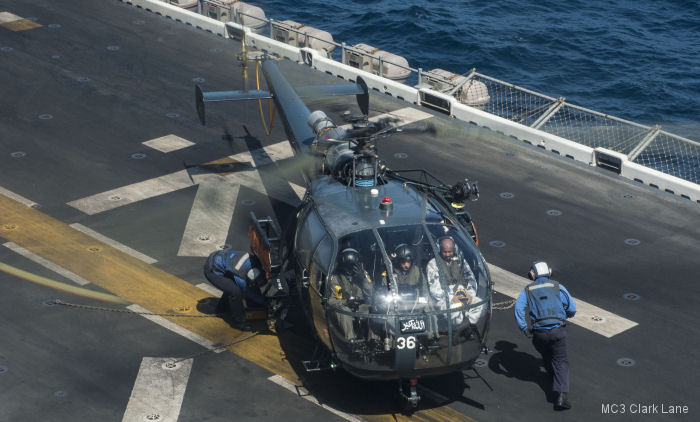 Pakistan Navy Alouette III on USS Makin Island, 20-Jan-17 : An ill sailor from PNS Tariq, on patrol in the Gulf of Aden, was evacuated to the USNS Amelia Earhart (T-AKE 6) and then flown to the USS Makin Island (LHA-8) for medical treatment.
C/N
Mod
Built
ID In this Org
In other Org


1996
sa316b
ex UAE

104: UAEAF

1998
sa316b
ex UAE

105: UAEAF

1375
se3160
1966
1375: Pakistan Navy, ex Dutch H-75

H-75: Represented RNLAF at 6th International Helicopter SAR C+


---

pictured (pic1) at Kiksijde Belgium for NATO SAR helico+


---

pictured (pic2) at Eindhoven


---

pictured (pic3) at Leeuwarden


---

SAR Flight. Took part in rescue from Shiokaze on 19 Mar+


---

KLU SAR wfu 1993 sold to Pakistan

2388
sa319b
36: 03jul05 aboard PNS Tippu Sultan during Portsmouth Navy Days