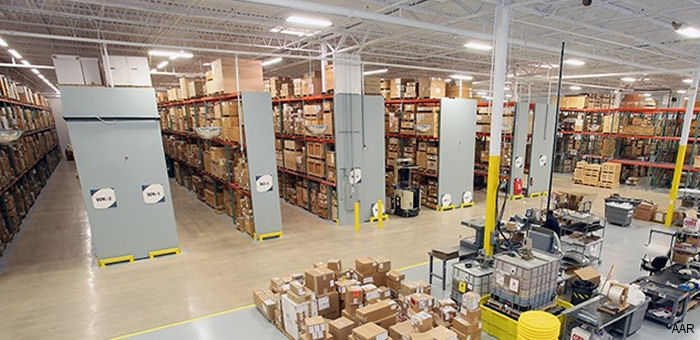 AAR, October 04, 2017 - EXCEL Center, LONDON – Global aviation services leader AAR
officially launched today at MRO Europe a new online PAARTS STORE open to existing and new aftermarket customers including operators, MROs, and brokers.

The new 2.0 look and functionality is being demonstrated by AAR's Digital Services team at Booth # 335.

PAARTS STORE 2.0 provides 24/7 visibility of the more than 1 million commercial aviation parts in AAR's inventory, one of the largest and broadest in the aftermarket industry. So in addition to the OEM factory-new parts previously listed, visitors now have real-time access to AAR's extensive stock of overhauled, serviceable, and repairable airframe and engine parts for almost every commercial aircraft platform. Full documentation including trace and certification is available to registered customers, as is the ability to instantly purchase or negotiate RFQs online.

"The new functionality means that customers no longer have to wait on emails and faxes to verify that a component is certified or airworthy – it's a faster one-stop shop," said Andy Schmidt, Senior Vice President, Intelligent Solutions, AAR. "This self-service option turns what has been a clunky B2B transaction into a seamless B2C experience."

Once an order is placed, users can track shipping, including same-day option, and view order history. Customers can access AAR's PAARTS STORE via our website or directly at shop.aarcorp.com.

"We are excited to expand the accessibility of our parts to new customers and make it easier for existing customers to submit RFQs and access documentation," said Sal Marino, Senior Vice President, Parts Supply, AAR. "AAR has been a leader in parts trading for more than 60 years, and we are now taking our extensive aftermarket inventory into the digital realm."

Since AAR started promoting its online parts store 1.0 last spring, the Company has attracted new customers, and the daily searches, conversions, orders and revenues have progressively increased. The 2.0 version that just went live takes the store to the next level with the largest inventory of new and used parts in the industry, as well as a sleek new look and functionality.

About AAR: AAR (NYSE: AIR) is a global aftermarket solutions company that employs more than 5,000 people in over 20 countries. Based in Wood Dale, Illinois, AAR supports commercial aviation and government customers through two operating segments: Aviation Services and Expeditionary Services. AAR's Aviation Services include inventory management; parts supply; OEM parts distribution; aircraft maintenance, repair and overhaul; and component repair. AAR's Expeditionary Services include airlift operations; mobility systems; and command and control centers in support of military and humanitarian missions.

AAR Corp
AAR Launches Online Parts Store Worldwide