Ultimate Heli Bell 412 in 2018 Antarctic Campaign


Ultimate Heli 2 Bell 412EP deployed to the white continent on early December aboard the SA Agulhas II scientific ship in support of South African Antarctic program. Will be back by end of February

Ultimate Heli, January 08, 2018 - Ultimate HELI is a world class provider of helicopter services, supplying the safest and the most efficient helicopter charter, helicopter maintenance, advanced helicopter training, utility helicopters and helicopter support worldwide.

We are proud to announce that we have deployed 2 x Bell 412EP's to Antarctica.

The helicopters and crews departed Cape Town on the SA Agulhas II scientific research vessel in early December 2017 and are expected back towards the end of February 2018.

The helicopters have already started operating in the Dronning Maud Land in Northern Antartica for the South African Antarctica program, but are also providing much needed aerial support to international Scientific teams from various European and Scandinavian countries as well as back up SAR throughout 2,7 square kilometre Dronning Maud Land in Northern Antarctica.

Shaun Roseveare CEO of Ultimate Heli said " This is now our forth successive season in Antarctica and it is wonderful to be providing aerial support Scientists for a growing number of countries. Being able to deploy in such harsh environments is a true testament to the capabilities of our crews and maintenance personal that have the extensive experience to work in these environments. We look forward to many more safe flying years in Antarctica".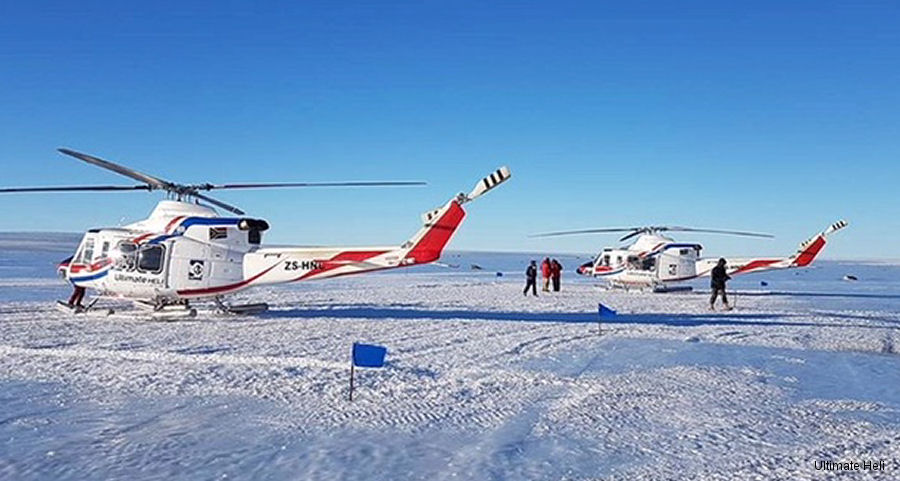 This article is listed in :
Bell 412 in

Ultimate Heli

SA Agulhas II ( , Agulhas (2012) class )
What links here :
Ultimate Heli Deploys Bell 412 and AS350 to Antarctica