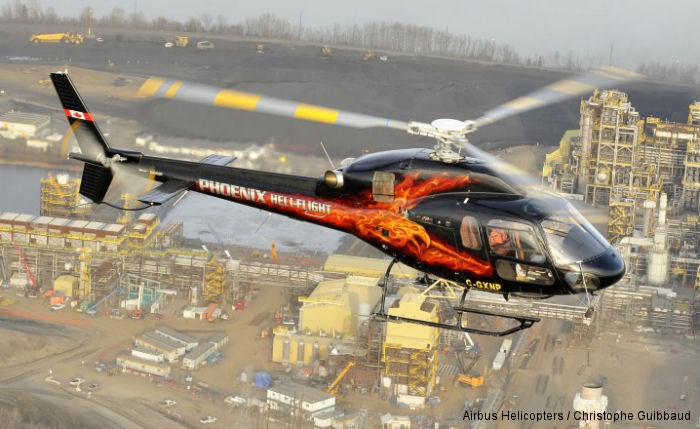 Airbus Helicopters, October 13, 2016 - At the end of August 2016, Airbus Helicopters' Ecureuil fleet reached the impressive milestone of 30 million flight hours.

To learn more about the longevity of a fleet that represents 42 percent of Airbus Helicopters' in service aircraft, we spoke to Mathilde Royer-Germain, Vice President of Light Helicopters Programme.

The first Ecureuil was delivered in 1977. How do you explain the longevity of this helicopter family?

Mathilde Royer-Germain: The first Ecureuil was conceived with safety, low operating costs, and the anticipation of future performance increases as priorities. Today, the AS350 (renamed H125) has become the unrivalled leader in the aerial work segment, able to lift more than its empty weight. In 2005, the AS350 even broke the world record for the highest altitude landing on Mount Everest. With the introduction of a wider cabin on the EC130 (renamed H130), the Ecureuil family has been able to expand its market footprint further, especially in the tourism and medical transport segments. The Ecureuil family has been able to adapt to market evolutions and to address key mission segments since its introduction.

Five thousand Ecureuil are flying in 119 countries for more than 1,800 customers. Why has this helicopter been such a success?

M.R-G: The first explanation is probably in the Ecureuil's DNA: this helicopter was designed to be safe, simple, versatile and to offer the best performance versus operating cost in the world. Today, the Ecureuil family is the best choice to perform the complete range of helicopter missions, specifically with the dual H125 and H130 offer. The H130, with its spacious cabin offering excellent visibility, its high performance, its low vibration level, its rupture resistant fuel system and energy-absorbing seats, is perfectly conceived to carry seven passengers and to perform medical transport missions in complete safety. A versatile aircraft, it can also perform aerial work missions. The H125's lifting capacity and ability to carry an extraordinary variety of equipment, both externally and internally, along with hot and high performance, make it a helicopter particularly suited to aerial work, law enforcement, search-and-rescue units and firefighting. Our customers love the Ecureuil because they know they can count on it no matter their mission.

In a strongly depressed global helicopter market, will the Ecureuil continue to be as successful as it was?

M.R-G: The H125 and H130 represent two helicopters out of three delivered in their weight class in the world, and the Ecureuil bookings remain solid. The Ecureuil is performing particularly well in growth-driven markets, such as China, where Ecureuil deliveries have more than doubled between 2014 and 2016.

The Ecureuil has continuously improved over a period of 40 years. What are the latest developments for this helicopter family?

M.R-G: The next improvement will be the introduction in early 2017 of Garmin G500H avionics on all newly produced H125s and H130s. This glass cockpit solution will reduce pilot workload, especially for mission preparation, and enhance safety with Synthetic Vision Technology (SVT) while preserving external visibility – and all this with no additional weight. In parallel, we are introducing new mission packages in order to capture new business. For example, the H130 can now answer any EMS requirement for single- or dual-pilot interiors, while the H125 will soon offer the most modern equipment kit for law enforcement and surveillance missions.

Finally, we remain focused on simplifying maintenance and reducing operating costs for our customers. As an example, by the end of 2016 we will have reduced by 10 percent the number of maintenance hours required per flight hour and removed the 12-year inspection on the H130. As you can see, we have a lot of ideas for keeping H125s and H130s at the top of operators' lists as the number one choice to support the growth of their business, for another 30 million flight hours.
Eurocopter AS350 Ecureuil
Eurocopter AS355 Ecureuil 2