Drallim, May 28, 2016 - by Phil Wilson - Drallim is pleased to announce that Bell Helicopters, a Textron Inc. (NYSE: TXT) company, has selected the HAWK 8000lb Cargo Hook System for its Bell 525 Relentless

The HAWK 8000lb keeperless hook is one of a new range of cargo hook products arising from the company's three year modernisation programme.

The hook has been based on a core design which has a far higher maximum operating load capacity of 10000lb and designed with a safety factor of 4.3. This effectively increases the safety margin afforded to the HAWK 8000lb, significantly adding to operator confidence and ease of use.

"We have been supplying helicopter cargo hooks to the rotary wing industry since 1959," said Phil Wilson, Aerospace Divisional Manager for Drallim Industries. "Our legacy products have a long and successful track record of safety and reliability. The market is changing though and new regulations and a greater demand for innovative features had led the company to take on a more integrated systems approach. Bell's Helicopter's 525 Relentless is chock-full of technology so we feel especially privileged to have one of our leading-edge cargo hook systems installed on such an innovative and prestigious platform".

The HAWK cargo hooks fully meet FAR 29.865 relating to human and non-human external cargo loads, offering lifting excellence across the range of light, medium and heavy-lift helicopter platforms. Commercially-Developed/Military Qualified and supplied with many intrinsic features as well as optional adaptor mounts, weight indication and Electrical Cable Harnessing, the HAWK cargo hook offers helicopter OEMs a total systems approach to all factory fitted installations.

Drallim Industries Ltd is a global leader in the supply of Helicopter Cargo Hooks and Aircraft Tie Down solutions.
Bell 525 Relentless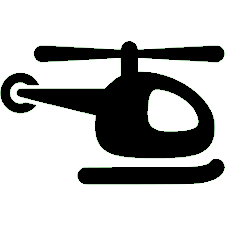 Helicopters Parts