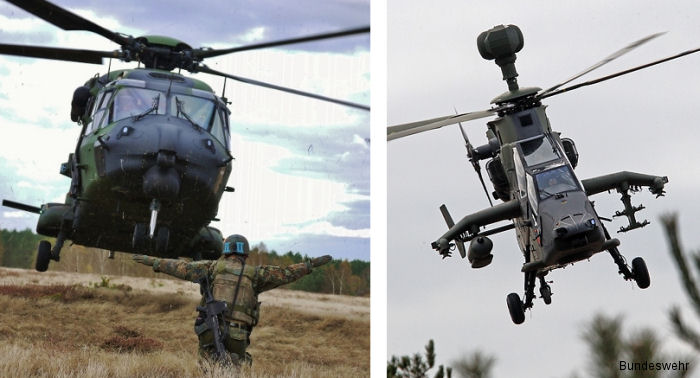 Helis, January 12, 2017 - Germany's cabinet approved on January 11 the deployment of eight attack and transport helicopters as well as 350 additional soldiers to Mali as part of a U.N. peacekeeping mission MINUSMA (Multidimensional Integrated Stabilization Mission in Mali) until mid-2018.

The helicopters will replace those of the Royal Netherlands Air Force CH-47 Chinook and AH-64 Apache being withdrawn and the additional troops will service and maintain the fleet.

With this troops Germany will now have some 1,000 soldiers in Mali.

France launched a military operation in 2013 in Mali to push back Islamists who a year earlier had hijacked an ethnic Tuareg uprising in the north of the country. A peace deal agreement took place in 2015 involving a 15,000-strong U.N. mission.

Some 100 peacekeepers have died in Mali.
UH Tiger in

Heeresflieger
NH90 TTH in

Heeresflieger
MINUSMA

Mali
MINUSMA
United Nations
German NH90 On Their Way to Mali