Kaman Celebrates Five Years in India


Kineco and Kaman celebrated 5 years of manufacturing advanced composite structures for Aerospace & Defence industry at Pilerne, India

Kaman, January 16, 2018 - GOA, India - Kineco Kaman Composites India Private Limited, a Joint Venture between Goa based Kineco Limited and Kaman Aerospace Group, Inc., a subsidiary of Kaman Corporation USA announced successful completion of 5 years since its formal launch in January 2013.

The company manufactures advanced composite structures for Aerospace & Defence industry at its state-of-the-art facility based at Pilerne Industrial Estate and employees 160 people.

Over the last 5 years the Company has made its mark in the Indian Aerospace and Defense sector supporting the 'Make in India' initiative of the Indian Government. During this period the Company has also achieved various global certifications namely AS9100 Rev.D, NADCAP, ISO 14001 & OHSAS 18001 besides other customer specific certifications.

The Company said it is celebrating its 5th Anniversary by honoring its key customers, suppliers and associates who contributed to its success at a formal event being held in the city in the presence of the Hon. Chief Minister of Goa Shri Manohar Parrikar who also formally inaugurated the company's facility in January 2013.

To commemorate this event, the Company announced that as a part of its corporate social responsibility (CSR), the Company has decided to adopt and financially support 'HAMARA SCHOOL' a project founded by Ms. Mangala Wagle and being run under aegis of Kasturba Gandhi National Memorable Trust, which whose mission is to transform the lives of street children through education, skill development and access to opportunities.

Coinciding with its 5th anniversary the Company also laid the foundation stone for expansion of its manufacturing facility at Pilerne Industrial Estate involving an investment of Rs.18 crores which has already been approved by Goa Investment Promotion Board. The expanded facility is expected to be operational by the 3rd quarter of 2018 and will more than double the company's production capacity and create employment opportunities for around 100 people.

The celebrations and the press conference were attended by Mr. Neal J Keating, Chairman, President and Chief Executive Officer of Kaman Corporation, Mr. Shekhar Sardessai, Executive Vice Chairman and Managing Director and Promoter of Kinceo Limited, Mr. Aditya Reddy, Chairman-Kineco Limited and Mr. Jim Larwood President-Kaman Aerosystems.

Mr. Neal Keating stated "the success of Kineco Kaman JV in a short span of 5 years has been extraordinary and has exceeded our expectations. I attribute this success to a mutually shared vision based on commitment to high standards of manufacturing, quality and governance. He added, the success demonstrated by Kineco Kaman and the confidence reposed in its capabilities by our discerning customers has motived us to expand our capacity to meet the growing demands in the emerging Indian aerospace market. I strongly believe that Kineco Kaman with an early mover advantage has built a strong foundation which will go a long way in supporting its growth ambitions and in the process contribute to the economic and employment goals of the State of Goa and India. On behalf of Kaman Corporation, Kaman Aerospace Group and on my personal behalf, I congratulate the entire Kineco Kaman team and wish them success in their further endeavor ".

Shekhar Sardessai, Chairman and Managing Director of Kineco Kaman said "it's a very proud moment for me and my team to have achieved this milestone successfully. The credit of this success goes to the entire team of Kineco Kaman and the support that it has received from its parents Kineco and Kaman." He added, "while we have come a long way in achieving success over the last 5 years, I believe that we have only scratched the surface given the potential that exist in the Indian aerospace industry. The mix of right strategy and appropriate investment from time to time will drive our growth momentum going into the future. As Neal said, we have a mutually shard vision between the partners Kineco and Kaman and I believe it is this alignment that will sustain our success going forward. I also believe that robust governance practices and human capital have been and will be the pillars of our success and we will continue to invest in this resources to run our business in the most efficient, ethical and socially responsible manner."

Leading Composites Manufacturing Companies

About Kineco Limited: Kineco is a first generation entrepreneurial company founded by Mr. Shekhar Sardessai, incorporated in 1994 and currently employs more than 150 people. It is one of India's leading composites manufacturing companies with a strong focus on the aerospace and defense sector. Kineco has a legacy of innovation, development and commercialization of composite products and caters to a wide range of industries such as railways, industrial, automotive, marine, mass transportation besides aerospace and defense.

Helios Strategic Systems (I) Limited (A wholly owned subsidiary of Indo National Limited, a publicly listed company) headquartered in Chennai is a majority shareholder in Kineco Limited. More information is available at http://www.kinecogroup.com.

About Kaman Aerospace Group: Kaman Aerospace Group is a subsidiary of Kaman Corporation (NYSE KAMN). The company produces and/or markets widely used proprietary aircraft bearings and components; complex metallic and composite aerostructures for commercial, military and general aviation fixed and rotary wing aircraft; aerostructure engineering design analysis and FAA certification services; safe and arm solutions for missile and bomb systems for the U.S. and allied militaries; subcontract helicopter work; and support for the company's SH-2G Super Seasprite maritime helicopters and K-MAX® medium-to-heavy lift helicopters. Kaman Corporation, founded in 1945 by aviation pioneer Charles H. Kaman, and headquartered in Bloomfield, Connecticut conducts business in the aerospace and industrial distribution markets.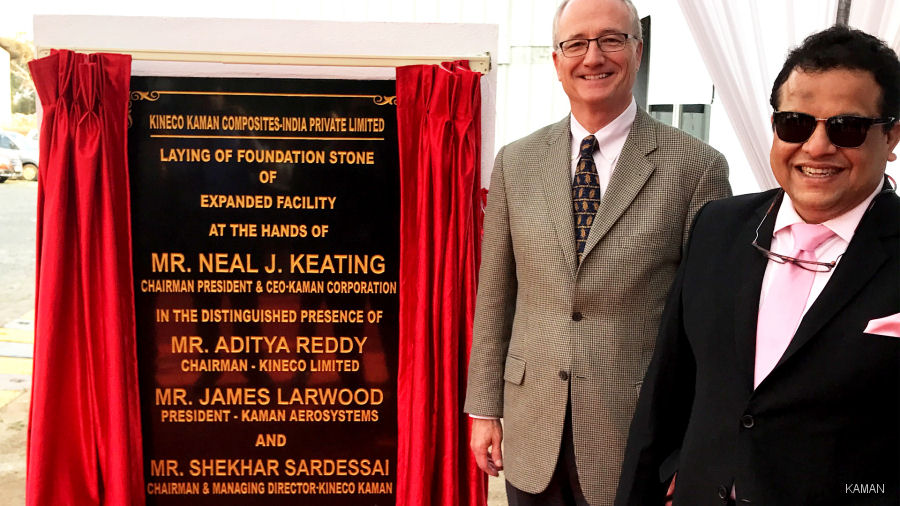 This article is listed in :


Kaman

India
What links here :
BAE Systems Honors Kineco Kaman in India