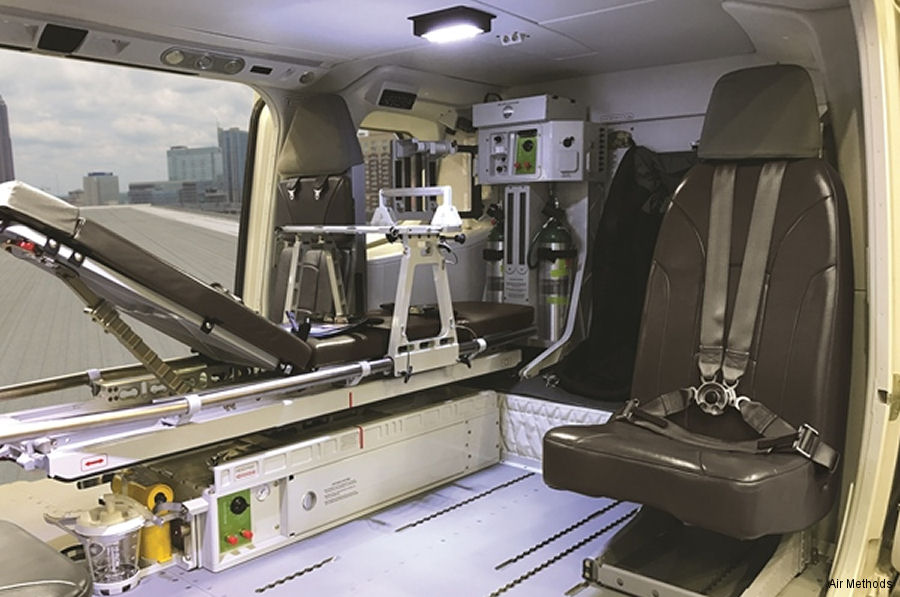 Air Methods, July 31, 2018
- DENVER, CO – United Rotorcraft has received a European Aviation Safety Agency (EASA) Supplemental Type Certificate (STC) for its modular emergency medical services (EMS) interiors for both the AW169 and AW139 helicopters.
United Rotorcraft's AW139 and AW169 EMS interiors include configurations for medical or passenger transport.
The EMS configuration includes:
- a freestanding equipment rack;
- a Medical Transport Module (MTM) with a gaseous oxygen system;
- a Translating Patient Loading System (TPLS) to load the patient onto the aircraft;
- a patient litter with adjustable headrest that is approved for use during taxi, take-off and landing;
- and a Modular Medical Cabinet (MMC), which provides additional oxygen, A/C power, lighting and attachments to secure medical support equipment.
Passenger seating
Passenger seating configuration options include comfort seating for eight passengers or eight "flip-up" seats.

"The AW169 and AW139 configurations allow for a head attendant seat, which is a cornerstone to patient care and access," stated Frank Graham, senior director of Global Sales and Marketing. "This differentiator will provide our customers with a state-of-the-art solution to their EMS mission needs and requirements."

About United Rotorcraft, United Rotorcraft, An Air Methods Division, specializes in the design and manufacture of aeromedical and aerospace technology. United Rotorcraft offers a full range of completion, paint and MRO services and products for emergency medical services, search and rescue, law enforcement, utility, VIP and military operators.

About Air Methods: Air Methods is the leading air medical provider, delivering lifesaving care to more than 70,000 people every year. With nearly 40 years of air medical experience, Air Methods is the preferred partner for hospitals and one of the largest community-based providers of air medical services. Air Methods' fleet of owned, leased or maintained aircraft features more than 450 helicopters and fixed wing aircraft.

United Rotorcraft
Air Methods
AW169 in

Air Methods
AgustaWestland AW139
EASA
European Commission