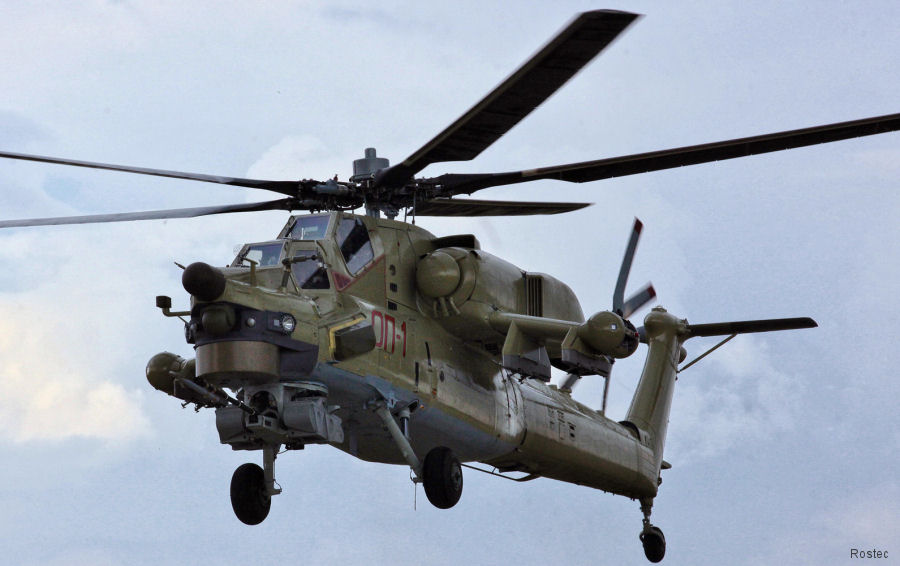 Russian Helicopters, August 22, 2017 - Moscow: The first Mi-28UB helicopters were produced at Rostvertol company of the Russian Helicopters Holding.

Machines is undergoing user acceptance testing at the company. It is planned to deliver 8 Night Hunters with dual control before the end of this year.

The Mi-28UB, designed for the Russian Aerospace Forces, passed state tests successfully. As a result, batch manufacturing of this vehicle began at the plant in Rostov in 2016. Thus the helicopter, alongside its primary objective, can be used for flight instruction and for training flight personnel. The creation of dual control helicopters is the logical continuation of developing the concept of an attack army helicopter.

"Production of the first Mi-28UB batch is an extremely important event not only for Rosvertol and Russian Helicopters but also for our colleagues from the Russian Ministry of Defense. The delivery of modernized Night Hunters will begin soon. The Mi-28 proved its efficiency, so we are expecting that its training version will be of great demand in armies. This dual control helicopter breaks new ground for training flight personnel for machines of this type," said Andrey Boginsky, CEO of the Russian Helicopters holding.

The main difference of Mi-28UB from a classical Night Hunter is the dual control system that allows piloting the helicopter from both command cockpit and operator's cockpit. There are other special characteristics. For example, ergonomics is enhanced significantly: energy-attenuating seats with improved characteristics are installed in the cockpit; they can absorb shock energy in case of crash landing. Airborne avionics and communication tools have also been changed, and this increased the helicopter's reliability, safety and performance specifications significantly.

The Mi-28UB, as well as its predecessor, preserves its maneuvering capability and can carry out military tasks at any time of the day or night. The Mi-28UB can be used for fire support of land advanced units and antitank defense. The helicopter possesses improved armor protection and is characterized by high tolerance to battle damage and equipped with a large weapon system.

The main customer of OJSC Rostvertol is the Russian Ministry of Defense. In accordance with the approved schedule, the company delivers the whole line of produced helicopters to the Ministry and modernizes equipment produced for the Russian Ministry of Defense in cooperation with Mil Moscow Helicopter Plant and under the guidance of Russian Helicopters.

Russian Helicopters, (part of State Corporation Rostec), is one of the global leaders in helicopter production and the only helicopter design and production powerhouse in Russia. Russian Helicopters was founded in 2007 and is headquartered in Moscow. The company comprises five helicopter production facilities, two design bureaus, a spare parts production and repair facility, as well as an aftersale service branch responsible for maintenance and repair in Russia and all over the world. Among Russian Helicopters customers - Russian ministries and state authorities (Ministry of Defence, Ministry of Internal Affairs, Emergency Control Ministry), operators (Gazpromavia, UTair), major Russian and foreign corporations. In 2016 Russian Helicopters IFRS revenues reached RUB 214.3 billion. Deliveries reached 189 helicopters.
Mi-28 Havoc in

Russian Helicopters
Russian Helicopters Delivered First Mi-28UB