Belgian NH90 First Deployment to Africa


Belgian NH90 Caiman helicopters perform first ever mission on African continent when deployed 4 weeks to Gabon to participate in exercise Tropical Storm supporting the paratroopers of the Light Brigade

Belgian Air Force, September 12, 2017 - A giant Antonov transport aircraft landed on Beauvechain's airbase on Monday September 11th. The An-124 had to transport two NH90 helicopters to Gabon in Equatorial Africa where they will participate in the Tropical Storm exercise.

This allows the 18 Squadron from Beauvechain's, which operates the transport helicopter, to move a new step forward to gain the operational deployability of the NH90

Last year, the Air and Land Component of the Belgium Armed Forces signed a framework agreement to establish that the Tactical Transport Helicopters (TTH), the land version of the NH90, will primarily provide support to the ground troops.

During exercise Tropical Storm, this act is now put in practice. The Paratroopers Battalions of the Light Brigade will train alternately at different locations in Gabon. The helicopters will be used in the tactical air transport role.

The NH90 could of course fly by their own to Gabon, but for economic and operational reasons, it was chosen to bring the helicopters by air to their destination. This saves the number of flight hours for the helicopters which can be fully used for the exercise. And most important, it also limits the impact on the maintenance of them.

This exercise is also important for the Air Component. For the first time, 18 Squadron is deploying its NH90s on the African continent. This can be seen as a final major test for a possible operational deployment of helicopters in Mali in the course of 2018 as part of United Nations MINUSMA peacekeeping mission.

During the four-week exercise, the Air Component, in addition to the two NH90 Caiman, also deploys three C-130 transport aircraft and two A109 helicopters to support the Light Brigade.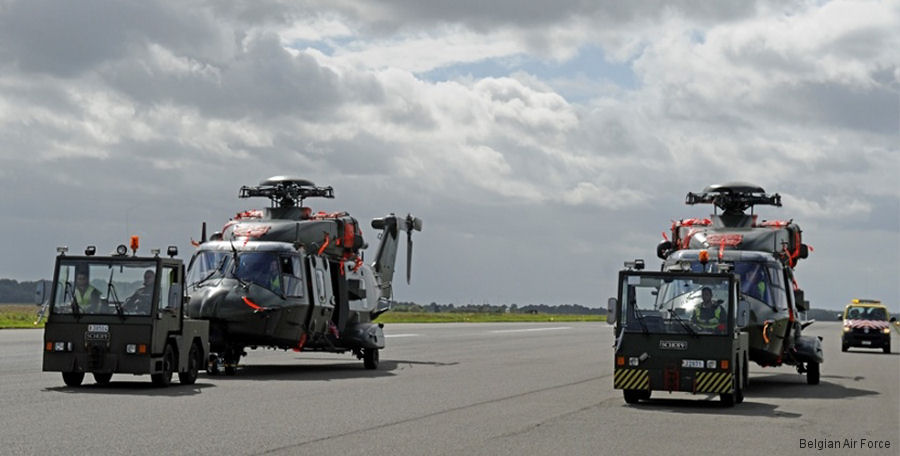 Aircraft mentioned in this article :
NH Industries NH90 TTH RN07 SABCA A109BA H27 RN05 H22

This article is listed in :
NH Industries NH90 in

Force Aérienne Belge
18 Sq MRH

18 Squadron
Force Aérienne Belge
Belgian Air Force
Exercise Tropical Storm

Beauvechain AB
What links here :
Antonov AN-124 Took Belgian NH90s to Mali