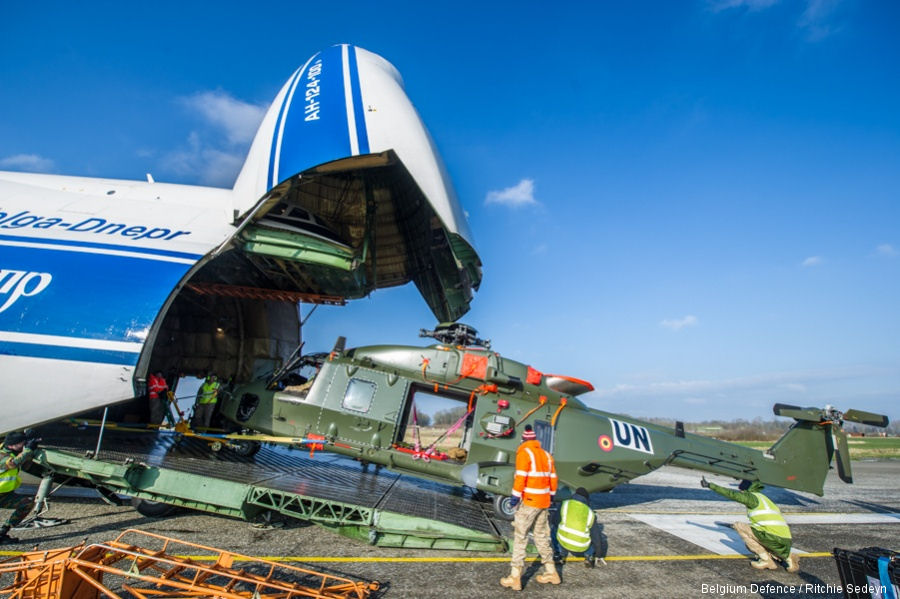 Belgian Air Force, February 06, 2018 - For the second time, an Antonov cargo plane landed at Beauvechain Air Base on Monday, February 5th.

This aircraft, one of the largest transports in the world, was contracted to carry two Belgian NH90 helicopters to Mali. These will participate in the UN MINUSMA mission for at least four months.

In order to transport the helicopters to Mali, the Belgian Air Force used an Antonov An-124-100 transport aircraft from the Russian company Volga-Dnepr.

The chartering of this aircraft is carried out under NATO's Strategic Airlift Interim Solution (SALIS) program. Through this program, NATO compensates for the shortage of strategic transport aircraft pending the delivery of the new A400M aircraft already ordered. An NH90 helicopter can not be loaded on Belgian C-130 aircraft.

Flying the helicopters by their own to Mali is not the good option. The distance being too great, the trip would require too many hours of expensive flight. Hours spent at the expense of the operation for which these machines are really intended. The cost of maintenance and repairs would also be too high.

The helicopters, accompanied by twelve technicians who made the trip in the same Antonov, arrived in Bamako, the capital of Mali. On site, this staff will need three days to return the NH90s to operational status. With the rest of the Belgian detachment composed of about fifty soldiers in total, everyone should be ready to start field operations on February 9th.

In Mali, Belgian helicopters will mainly transport troops and wounded. These missions will be made from Gao in the north-east of the country. They will operate within an already installed German detachment.

For the Belgian NH90s this is not a first in Africa. Last September they took part in Exercise Tropical Storm in Gabon. It is, however, the first time they are engaged in an real operation.
Location :

Beauvechain AB
NH90 in

Force Aérienne Belge
MINUSMA
United Nations
Belgian NH90 First Deployment to Africa
Belgium Could Send NH90 to Mali
Belgian NH90 Ready in Gao for MINUSMA