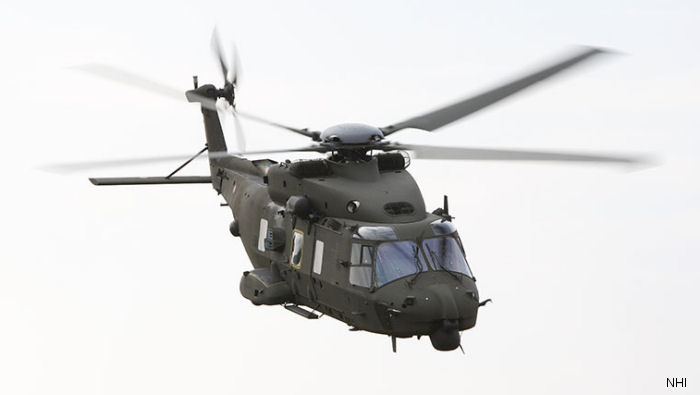 NHIndustries, October 13, 2015 - NHIndustries celebrated the delivery of the 250th NH90 military helicopter today.

The event took place in Viterbo,Italy during the annual NH90 users conference in presence of Brigadier General Antonio Bettelli commander of Italian Army Aviation.

"We are committed, at NHI, to delivering our helicopters on-time to our customers. The delivery of the 250th aircraft today is an important milestone and it highlights the technical and commercial success of this European program" declared Vittorio Della Bella Managing Director of NHIndustries.

"The NH90 is today the most modern combat proven helicopter in its class. We are proud to fulfill the expectations of our customers every day, and we keep on working closely with them in order to make sure the NH90 remains the reference for the XXIst century operations" added Vittorio Della Bella.

The helicopter delivered in Viterbo is a Tactical Transport helicopter optimized for land-based missions. It will be operated by the Italian Army aviation special forces. The Italian Armed Forces already operate a fleet of 30 NH90 TTH and 17 NH90 NFH.

The NH90 is the optimal choice for modern operations thanks to its large full composite airframe, its excellent power to weight ratio; and its wide range of rôle equipment. It features a redundant Fly-by-Wire flight control system for reduced Pilot's workload and enhanced flight characteristics.

The NH90 is proposed in two main variants, one dedicated to naval operations, the NH90NFH (Nato Frigate Helicopter) and a Tactical Transport Variant for land based operations. As of today, 249 helicopters have been delivered in Naval and Tactical transport variants. A total of more than 95000 flight hours have been achieved. The NH90 is operated in Germany, France, Italy, The Netherlands, Sweden, Finland, Norway, Greece, Oman, Belgium, Australia and New Zealand.

The twin-engine, medium-size NH90 helicopter program is managed by the consortium NHIndustries, the Company owned by AgustaWestland (32%), Airbus Helicopters (62.5%), and Fokker (5.5%).
NH90 TTH in

Aviazione dell'Esercito