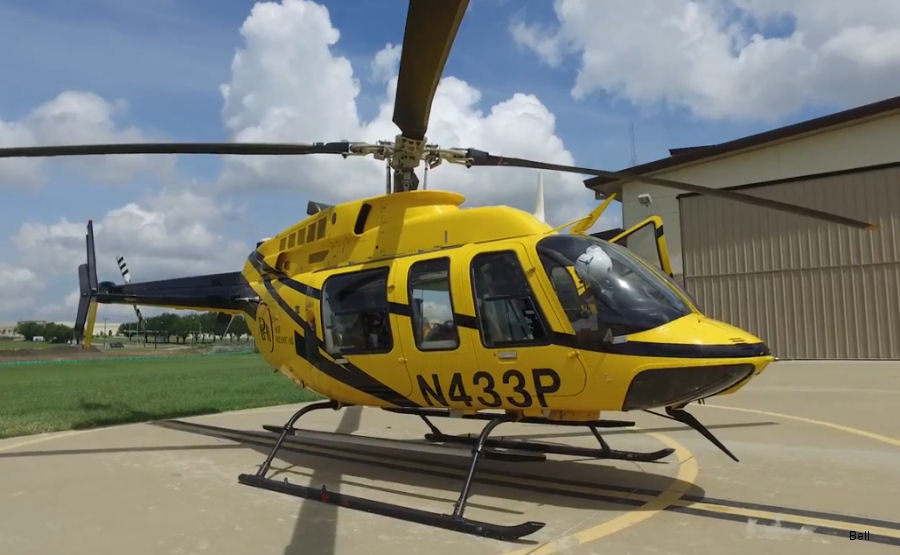 Bell, June 28, 2018 - "Dispatch Air Medical." After hearing those three words, a crew of highly talented pilots and medical personnel are up in a Bell 407 in minutes.

With over 65 bases all over the United States, PHI Air Medical utilizes a skilled team to transport over 30,000 patients a year.

In Texas, they are known for their company standard of always carrying liquid plasma and warm red blood cells on every aircraft for transfusions.

Today, PHI Air Medical operates a fleet of Bell 407s, which have always been a choice aircraft for healthcare emergency services. A 61 in/155 cm bi-fold door allows for efficient patient loading especially when it's vital. The third seat in the aircraft allows a patient family member, field surgeon or additional medical personnel to fly with the crew.

The aircraft is also known for its reliability and performance especially in hot conditions, which it has proven with continuous successful operations in these type of environments, including during Texas summers where temperatures can reach more than 110 degrees. With reoccurring summertime injuries, such as drowning and dehydration, PHI personnel feel very confident in the aircraft and its ability to help them deliver patients to nearby medical facilities and hospitals.

Established in 1981, PHI Air Medical has built a robust legacy of aviation safety - and they have the facts to prove it. PHI flies more flight hours than any other civilian company in the world. Their current safety record is 0.78 occurrences for 100,000 flight hours versus an industry average of 4.78 occurrences for 100,000 flight hours.

The healthcare emergency medical service provider also achieved an industry first by becoming the first company to receive the Vision Zero Aviation Safety Award in 2007 and the only air medical company to win it a second time in 2016. To add further safety measures to flights, the crew operates in flight with night vision goggles, satellite tracking, terrain awareness, auto-pilot, terrain awareness and line monitoring.

PHI's Bell 407 crew consists of two medical personnel - one flight nurse and one paramedic - and a pilot. From treating a rural agriculture accident to transporting high-risk maternity patients, medical personnel are required to have extensive medical knowledge to handle any injury and condition the North Texas community throws their way.

In addition, PHI crews follow strict standardized and engineered airway guidelines to ensure patient safety and outcomes. PHI's pilots can land in fields as well as on the sides of highways, dirt or concrete surfaces and hospital helipads. Every team member knows their role well and operates with patient and aircraft safety at the top of their mind.

List of Air Medical Ambulance Services
407 in

PHI Inc

PHI Air Medical
PHI Inc