Canadian Sea King Going Out with Style


Last Sea Kings flying with 12 Wing ending more than 55 years of service with Canadian Armed Forces. #17 has been painted in original Royal Canadian Navy colours and undertaking a cross-country flight

Royal Canadian Air Force, July 26, 2018 - By Lieutenant-Colonel Travis Chapman - Designed in the late 1950s and procured by Canada through a dynamic acquisition program in the early 1960s, the CH-124 Sea King helicopter has served Canadians with distinction since May 24, 1963.

Longevity, avionics and mission system upgrades, and the utility of a medium-lift helicopter came together to create a legacy that ignites a passion spanning multiple generations, unlike any other Royal Canadian Air Force asset.

The CH-124 pre-dates Bill C-243, "The Canadian Forces Reorganization Act", and so the Sikorsky HSS-2 was acquired as a Royal Canadian Navy (RCN) anti-submarine warfare (ASW) weapon system, and was designated CHSS-2 upon entering Canadian service. A maritime helicopter, it has operated from aircraft carrier Her Majesty's Canadian Ship (HMCS) Bonaventure, St. Laurent-class destroyer escorts and Iroquois-class destroyers, auxiliary oiler replenishment ships, and Halifax-class frigates.

In many ways, Canada's efforts to embark a large aircraft on a small flight deck revolutionized the concept of organic air support to naval operations by showing the theoretical to be possible. Given the capabilities of a larger helicopter, crews could carry more armament, more fuel, and a suite of avionics—with capacity for growth. Considering the rapid advancement of submarine capabilities in the 1950s, the CHSS-2 became a potent counter-punch to non-friendly submarines. Over time, it proved capable of acting as an autonomous, multi-role ASW weapon system through several permanent and temporary modifications that included radar, sonobuoy processing, GPS, automatic identification system, tactical common datalink, and various iterations of tactical navigation computers, as well as the development of aircraft-specific tactics for crews to employ.

Currently, the Sea King is flown by squadrons belonging to 12 Wing Shearwater, Nova Scotia.

To pay tribute to the history of Canada's esteemed maritime helicopter, Major Trevor Cadeau, 443 Maritime Helicopter Squadron aircraft maintenance engineering officer, initiated a project in December 2017 with technical and operational staff at Director Aerospace Equipment Program Management (Maritime) and 1 Canadian Air Division to change Sea King tail number CH12417's modern livery to one inspired by the original RCN livery from 1963 (as pictured on aircraft 4005), and previously applied in 2010 to commemorate the Canadian Naval Centennial.

The success of the latest livery project belongs to a large team from Patricia Bay, British Columbia; Shearwater, Nova Scotia; Ottawa, Ontario; and Winnipeg, Manitoba. Essential to its impressive execution were technicians from 12 Air Maintenance Squadron (AMS), and 423 and 443 Maritime Helicopter Squadrons.

Of course, once painted, it had to be reassembled. Again, personnel from 12 AMS, and 423 and 443 Squadrons worked tirelessly, putting the aircraft back together.

Not only does the special paint scheme honour the Sea King's history and exceptional contributions to RCN and RCAF operations over the last 55 years, but the project presented an uncommon professional development opportunity for many aircraft structures technicians. Those involved in the project were able to exercise their own painting skill sets, using the new paint booth in the 12 AMS hangar in Shearwater, Nova Scotia.

In addition to CH12417, team members also repainted aircraft CH12401 in preparation for its induction into the Shearwater Aviation Museum.

Although 423 Squadron ceased Sea King flight operations on Canada's east coast in January 2018, and has already transitioned to the CH-148 Cyclone, 443 Squadron, which belongs to 12 Wing but is based at Patricia Bay, has been flying the CH-124 throughout 2018 in support of deployed operations onboard HMCS St. John's, and domestic taskings and advanced force generation at Arundel Castle in Patricia Bay.

On June 13, 2018, a crew from 443 Squadron left Shearwater on a cross-country ferry flight bringing CH12417 from the home of maritime aviation in Shearwater to Pat Bay. 443 Squadron is proud of our history and success with the Sea King, and will enthusiastically fly CH12417 during the fleet's final six months of RCAF service.

Over the summer, civilians and service personnel can expect to see CH12417 in its new clothes at various airshows, and in the skies over Victoria and Pat Bay. Adding an extra dose of excitement, Cyclones will operate alongside Sea Kings at 443 Squadron from August until the end of December 2018.

Post-retirement, it is expected that CH12417 will remain at 443 Squadron as a "gate guardian". It will also be present at the Sea King Retirement 2018 festivities planned in Victoria from November 30 to December 1, 2018. The organizing committee is planning an impassioned salute to this workhorse's 55 years of service to Canada, and CH12417 should feature prominently in both the flying and ground events.

The livery is an outstanding testament to our pride in our aircraft and our community's history. It is a fitting compliment to a weapon system that has served generations of Canadians at home, and Canada's foreign policy abroad, for more than 55 years.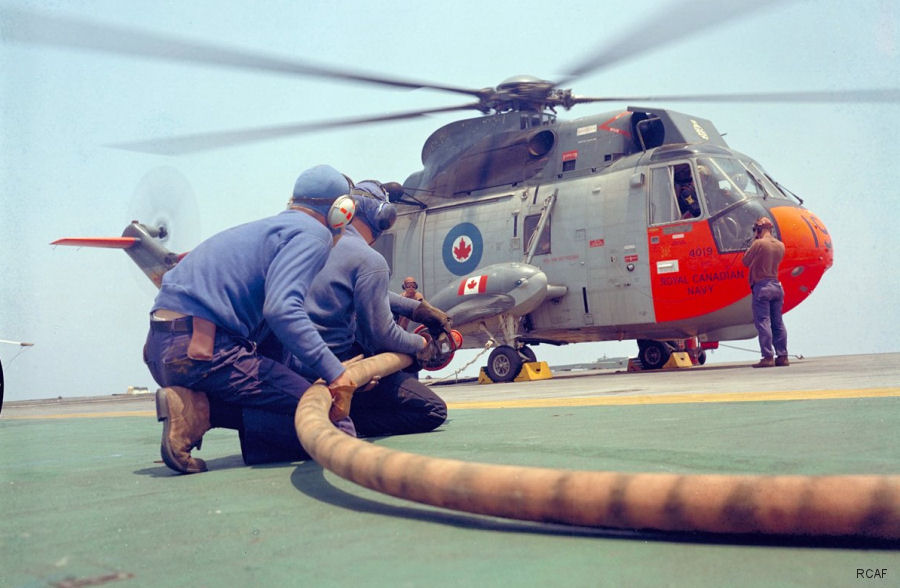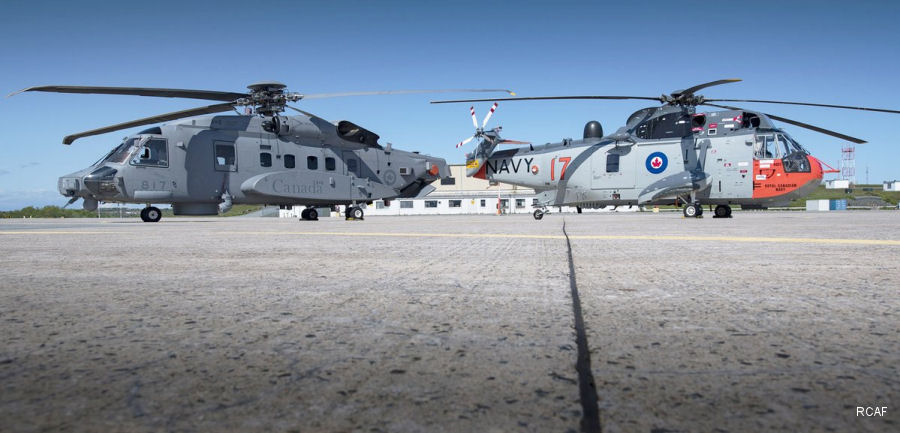 Aircraft mentioned in this article :
Sikorsky CH-124 Sea King 12417 ( Canadian Armed Forces )

This article is listed in :
Sikorsky CH-124 Sea King in

Canadian Armed Forces