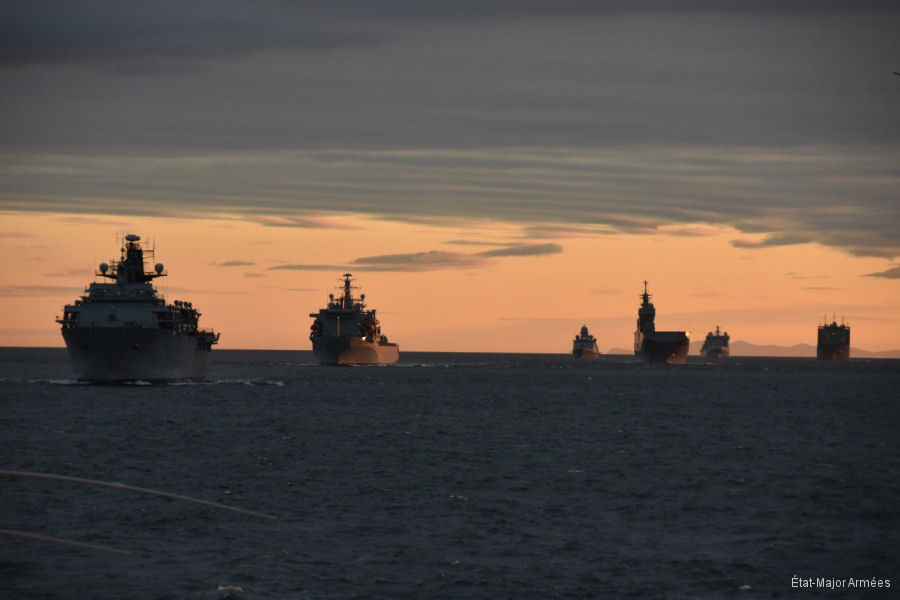 This JW incorporated
Exercise Griffin Strike
with the aim of proving the maritime element of the Anglo-French
Combined Joint Expeditionary Force
(CJEF), which resulted from the austerity-driven Lancaster House Agreement in 2010 and its interoperability with other NATO partners.
In addition to the UK and France, there were participants from Belgium, Canada, Denmark, Estonia, Germany, Italy, Japan, Lithuania, Netherlands, Norway, Spain, Sweden and the USA.
Also involved were Canadian CP-140, French Atlantique 2 and USN P-8A maritime patrol aircraft operating from Prestwick, RAF Chinooks from 27 Sq detached to Lossiemouth and operating from time to time from Carlisle. USAF C-17s were based at Prestwick.

Not all models shown may have taken part in the Operation

Individual helicopters
Classes
Ships
Helicopter Carrier
Argus class
A135 RFA Argus,
Guided-Missile Destroyer
Arleigh Burke Flight II class
DDG-75 USS Donald Cook,
Destroyer
F70 ASW class
D645 Lamotte-Picquet,
Frigate
Type 23 Duke class
F81 HMS Sutherland,
Frigate
Iver Huitfeldt class
F361 KDM Iver Huitfeldt,
Assault Carrier
Mistral class
L9014 Tonnerre,
Landing Ship/Platform Dock
Bay class
L3007 RFA Lyme Bay,
Landing Ship/Platform Dock
Albion class
L14 HMS Albion,
Support Ship
702 Class
A1411 Berlin,
Support Ship
Tide class
A138 RFA Tidesurge,
Support Ship
Lewis and Clark class
T-AKE-12 USNS William McLean, T-AKE-13 USNS Medgar Evers,