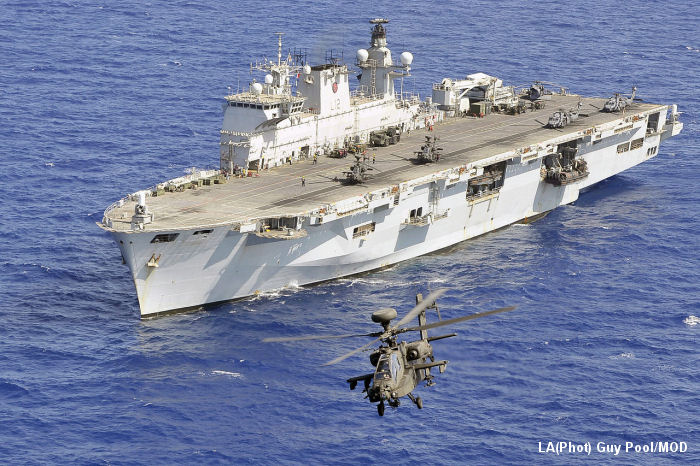 Multi-national force under NATO command, continuing operations from UN SCR 1973, to support the anti-Gaddafi revolution underway in Libya. This followed up the US-led
Operation Odyssey Dawn
which started earlier in March. Participants were desperate to devise a strategy which did not involve putting boots on the ground, yet effectively supported the government opposition, focussed largely in the east of the country.
It eventually involved Naval and Air forces of 13 nations, each using their own operation name, based around the Mediterranean and adjacent countries.
The operation also had a political and economic dimension: freezing Libyan overseas assets, supporting
democratic reform
and jostling for position to win future hydrocarbon-related industrial and commercial work from the new government.
From a UK perspective, the Government was in the van in leading the establishment of the operation but was in the untenable position of decommissioning the very military assets it needed, in order to prosecute the outcome.
Known in:
*

Canada as Operation Mobile
*

France as Operation Harmattan, where main focus was around Brega, to the south of Benghazi, until 31 Mar, when French forces joined NATO-led Unified Protector
*

UK as Operation Ellamy, where main focus was to the west of Misrata.
Other participating nations were Belgium, Denmark, Italy, Jordan, Netherlands, Norway, Qatar, Romania, Spain, Sweden, the UAE & the US.
In addition to the surface units mentioned below, the UK also deployed
HMS Triumph
and then
HMS Turbulent
from the Silent Service.

Not all models shown may have taken part in the Operation

Individual helicopters
Classes
Ships
Aircraft Carrier (Nuclear Powered)
Charles de Gaulle class
R91 Charles de Gaulle,
Aircraft Carrier V STOL
Garibaldi class
C 551 Giuseppe Garibaldi,
Guided-Missile Destroyer
F100 Alvaro de Bazan
F-101 Alvaro de Bazan,
Guided-Missile Destroyer
De Zeven Provinciën class
F803 Hr.Ms. Tromp,
Guided-Missile Destroyer
Horizon class
D620 Forbin,
Guided-Missile Destroyer
Type 42 (Batch 1 and 2) class
D92 HMS Liverpool,
Destroyer
F70 ASW class
D641 Dupleix,
Frigate
Maestrale class
F 572 Libeccio,
Frigate
La Fayette class
F712 Courbet,
Frigate
Regele Ferdinand class
F221 Regele Ferdinand,
Frigate
Type 23 Duke class
F81 HMS Sutherland,
Corvette
Comandant class
P 492 Comandante Bettica,
Assault Carrier
Ocean class
L12 HMS Ocean,
Assault Carrier
Mistral class
L9014 Tonnerre,
Landing Ship/Platform Dock
Bay class
L3008 RFA Mounts Bay,
Landing Ship/Platform Dock
San Giorgio class
L 9892 San Giorgio, L 9894 San Giusto,
Support Ship
Fort I class (1978)
A385 RFA Fort Rosalie,
Support Ship
Wave class
A389 RFA Wave Knight,
Support Ship
Etna class
A 5326 Etna,