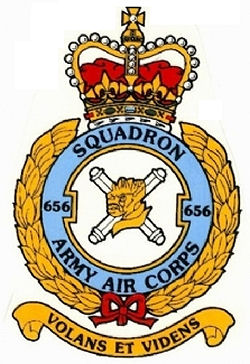 Formed in the Far East on 31 Dec 1942 as an AOP unit, attached to General Slims 14th Army.

A number of Flights administered by 656 Squadron were active in Brunei, Sarawak and Sabah, throughout the Malaya campaign with Indonesia, where the Scout was introduced in 1964.

The Scout was replaced in Hong Kong between Nov and Dec 1975 when 6 Gazelle arrived. The unit maintained a small detachment of Scout in Belize between Nov 1975 and Apr 1980. Six Scouts (to Gweru) and six Gazelles (to Salisbury) were deployed for
Peacekeeping operations
in Southern Rhodesia from Dec 1979 until Mar 1980 as part of the Commonwealth Monitoring Group. The unit deployed to the South Atlantic in 1982 in support of 5th Infantry Brigade.
By May 1991, the unit operated 6 Lynx and 6 Gazelle. During the transition period from Lynx AH.1 to Lynx AH.7, the unit deployed a flight of 2 Lynx AH.1 aboard
HMS Fearless
to Sevastopol, from Oct to Dec 1991. The unit moved to Dishforth in Dec 1993 to become part of 9 REGT. It subsumed 672 Sq personnel and became operational with 6 Lynx AH.7 and 6 Gazelle AH.1, mainly in support of 5 Airborne Brigade (part of 3 (UK) Division).

From Jan to Jun 1996, 656 Sq deployed 6x Lynx AH.7 and 4x Gazelle AH.1 to Gornj-Vakuf in Bosnia. In mid Apr 2000, the unit deployed again to the Balkan states; initially to Gornji-Vakuf and from early Jul to Splyt in Croatia until mid Oct.

Apache was introduced to the unit in 2003 and by end of 2004, its Lynx AH.7 had been replaced. In Sep 2005 656 Sqd deployed to
HMS Ocean
to establish a Maritime Interim Operational Capability. In Apr 2006 the unit deployed to Kandahar as part of Operation Herrick 4; on 5 May, 656 Sq moved forward to Helmand Province and conducted its first combat operations on 10 May. It was in theatre until Aug 2006, when it was relieved by
664 Sq
. It returned from Nov 2006 to Feb 2007.

The unit moved its Apache AH.1 from Dishforth to Wattisham and became part of
4 REGT
during 2007, as part of the AAC restructuring to single model Regiments.

For a period of 3 weeks in Oct 2010, the unit embarked 3 Apache AH.1 on
HMS Ark Royal
to prove operations in a maritime environment.

On 26 Apr 2011, 3 Apache AH.1 left Wattisham and embarked
HMS Ocean
, off Plymouth. During May, whilst working with the Royal Navy to prove the Response Force Task Group concept, the ship was ordered off Libya to participate in
Operation Ellamy
, the UK contribution to
Operation Unified Protector
. 4 Apache AH.1 (ZJ179, ZJ188, ZJ207, ZJ233) were involved in this iconoclastic mission, conducting combat operations in a heavy helicopter with a narrow undercarriage and high centre of gravity from a heaving deck, in a corrosive environment.

656 Sq was the first Army unit to contribute Apache to the annual northern Norway
Exercise Clockwork
during early 2019, in support of 3 CDO Brigade.

In this unit
Dates
2021-jun
2021-jun
HMS Prince of Wales(R09)
At least 2x Apache from 656 Squadron (including ZJ226) embarked, departed towards end of Jun.