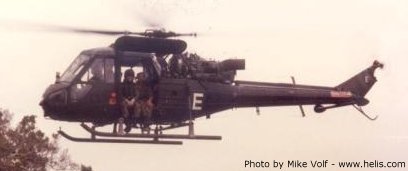 The Scout was the British Armys first turbine powered helicopter. The first firm order came from the Army Air Corps, a pre-series batch of
P.531-2
Mk.1s basically similar to c/n S2/5311 being ordered in 1959. The first of these was flown in Aug 1960, and in the following month an order for 66 was placed by the Army for the type as the Scout AH Mk.1. Delivered from spring 1963, these were fitted with Nimbus 101 or 102 engines and skid landing gear but engine problems prevented them from becoming fully operational until 1963, leading to a small order for
Alouette
s as an interim measure. Indeed, so poor was the initial engine life that a number of fixed-wing Austers were kept on in some units to supplement time in the air, for the number of Scouts on charge. The Scout replaced the
Skeeter
, both at home and abroad and it was employed for duties that included passenger or freight transport, liaison, search and rescue, and training.
The first 16 Scout AH.1 were delivered to Singapore by
HMS Bulwark
in Apr 1964. The Scout saw service in Borneo and Aden in 1964-65 - at the expense of planned deliveries to BAOR (Germany) - and later in the Falkland Islands, the latter also in the CASEVAC, resupply and Special Forces insertion roles.
Six Scouts from
3 Commando Brigade Air Squadron
RM were in action at the start of the Falklands war along with 3 from
656 Squadron
Army Air Corps. 3 more joined 656 Squadron when 5 Infantry Brigade landed. One Scout was shot down during operations. Some Scouts served in
Hong Kong
, where they were fitted with above-cabin flotation gear because of extensive over-water operations.
During its deployment to
Northern Ireland
, the Scout AH.1 was robust and useful. It served between 1969 and 1982, until phased out in favour of the
Lynx
.
Although its characteristics were not outstanding, the Scout was used as a light observation and scout helicopter to supplement ground reconnaissance forces in the British Army, a role which was played by the
Bell 206
in many other armies and has been superseded by the Westland
Lynx. About 150 Scouts served with the British Army and the
Royal Marines
until Apr 1994.

---
666 Squadron at Topcliffe, not 660. Ssgt I/c a/e 1972 to 1974

658 Sqn then 664 Sqn, Minden, Longkesh, Aldergrove, REME CPL 1976-1977