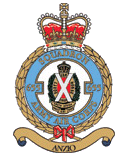 Formed on 22 Jan 1945 at Andover (
EGWA
) in Hampshire as one of the last fixed wing Air Observation Post units and the second
RCAF
AOP unit, with mixed (RCAF and Army) personnel and deployed to the Netherlands within 3 months, disbanding shortly after VE Day on 10 Jul 1945.

It enjoyed a longer life the second time around as 655 Aviation Squadron of the Army Air Corps, reforming at McMunn Barracks, Colchester from the amalgamation of 19 Brigade Flight, 1 Royal Horse Artillery Air Troop and the Air Platoon of 1 Prince of Wales Own on 1 Oct 1969. It inherited Sioux AH.1 and Scout AH.1 from those units and deployed a Scout detachment to Aldergrove (EGAA) in Jun 1971. It was retitled 665 Squadron, AAC on 1 Jan 1973. It was to visit Northern Ireland regularly over the next 6 years, including the distinction of being the last Sioux unit to deploy to Ballykelly, departing in Apr 1977.
In its preparation to move to
Soest
, 3 REGT divested itself of 665 Squadron to become an independent unit on 31 Jul 1977. It was renumbered
657 Squadron
on 1 Apr 1978.

McMunn Barracks - previous home of 2 Light Regiment Royal Artillery

It reformed again at RAF Aldergrove on 12 Mar 1986, joining the AAC Northern Ireland Regiment, with its Gazelle AH.1 and Lynx AH.1. To recognise its
Canadian
origins, a new badge with a Maple leaf was used. It relinquished its Lynx AH.7s in 1991 and operated over 20 Gazelles in 3 Flights, making it one of the largest AAC operational units.

665 Squadron is a constituent of
5 Regiment
, Army Air Corps (5 REGT AAC), which took over from the AAC Northern Ireland Regiment in 1993.

---
I was an Aircraft Tech A&E with the Sioux's attached to 1st RHA, then with 665 Aviation Squadron, as I remember our tail numbers were XT244, XT245 and XT246. I flew with them to many places including Germany, Belgium, Norway, Malaysia and to RAF Aldegrove just before I left the Army.