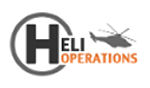 HeliOperations is a trading name of a holding company and it specialises in supporting civilian and military aircrew with tailored training programmes. It operates to military and civllian standards and also provides specialist aircrew under contract, from Search and Rescue to SuperYacht deck landings.
From 1 Jul 2017, HeliOperations became the owners of the
Osprey Quays
Portland Heliport site.

Rotary Wing Aircraft Unit
Created
Disband
HeliOps
?
--






2 Construction Numbers in this organisation found