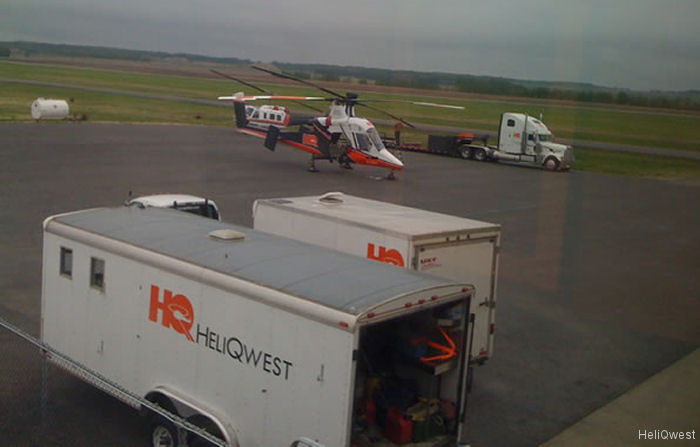 HeliQwest is an International helicopter charter company specializing in external load and specialty operations such as:
Seismic
, Aerial Harvesting, Inspection and Surveillance, Mapping, Photography, Survey, Forest Fire Suppression and General Transport.
Founded as
Cariboo Chilcotin Helicopters Ltd
at Lillooet, BC rebranded to HeliQwest Aviation in 2005. Based at Villeneuve Airport (
CZVL
) in Sturgeon County, Alberta and offices in Denver, Colorado, USA.
Model
Del'd
From
To
Kaman K-MAX
1996
Bell 205


Model
C/N
Built
ID
212
30826
1977
C-FBUA : Heliqwest Aviation at Sturgeon County, AB Oct10

212
31186
1981
C-FCNU : Heliqwest Aviation at Sturgeon County, AB from Nov14

205A-1
30142
1973
C-FHQK : Heliqwest Aviation Inc at Sturgeon County, AB Jan02-Apr14

204B
2024
1965
C-FHQT : Heliqwest Aviation at St Albert, AB May00-Feb05

K-MAX
A94-0013
1995
C-FMGM : Heliqwest Aviation Inc at Sturgeon County, AB from Oct12
: pictured at Williams Lake airport after a long day of firefightin ...

205A-1
30172
1974
C-FSXX : Heliqwest Aviation Inc at Sturgeon County, AB Mar06-Apr14, pictur ...

K-MAX
A94-0007
1994
C-FXFT : Cariboo Chilcotin Helicopters Ltd at Lillooet, BC from Apr96; reb ...
: pictured unk

212
30629
1974
C-FZQB : Heliqwest Aviation at St Albert, AB from May09

AS350B2 Ecureuil
2781
1994
C-GAVQ : Heliqwest Aviation at Sturgeon County, AB Nov10-Apr11

205A-1
30262
1978
C-GEAG : Heliqwest Aviation at Sturgeon County, BC May14-Apr15
: Heliqwest Aviation at Edmonton, AB Jan98-Apr99

205A-1
30183
1975
C-GEAK : Heliqwest from Feb96

205A-1
30088
1970
C-GEAT : Heliqwest Aviation Inc at St Albert, AB Jul98-Apr17

205A-1
30086
1971
C-GFHA : Heliqwest May11-Feb14; pictured (pic1) at Phoenix Deer Valley, Ar ...

AS350B3 Ecureuil
3350
2000
C-GWGK : Heliqwest Aviation Inc at Sturgeon County, AB from Jan13

K-MAX
A94-0011
1995
N202WM : Wells Fargo Bank Northwest Na Trustee 24May04-Oct17; HeliQwest A ...
: 15 19:15 seen over Boulder City, Nevada appearing to depart KBVU

205A-1
30100
1970
N205HQ : Wells Fargo Bank from Oct03
: HeliQwest, noted 2004; pictured unk Jan20 still

AS350BA Ecureuil
2786
1994
N35HQ : Wells Fargo Bank Northwest Na Trustee Feb07-Sep12; HeliQwest, pic ...

205A-1
30086
1971
N386HQ : Well Fargo Bank from Apr14
: pictured (pic2) as /FIRE H538 overflying San Diego Zoo, CA
: pictured (pic3) at Gillespie Field, San Diego, CA
: discovered tail rotor double delamination in post flight inspecti ...

205A-1
30172
1974
N502HQ : Copter Lease Llc Trustee at Albuquerque, NM from Apr14


17 Construction Numbers in this organisation found