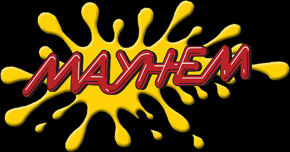 Operates a 6.5 hectare paintball range and conference centre adjacent to Stapleford Airfield in Abridge, Essex. The range has a number of decommissioned aircraft, helicopters and fighting vehicles on site.

Model
Del'd
From
To
Westland Lynx AH1
Westland Scout AH.1
Westland Sea King HAS.5
Westland Sea King Mk.47
Westland Wessex HU.5


Model
C/N
Built
ID
Sea King Mk.47
wa 825
1975
776 : By Sep 2014 to Mayhem Paintball Essex. Nose section only. Main c ...

Scout AH.1
f.9480
1962
XP854 : Mayhem Paintball Essex by Jul09; 2015 still; pictured

Wessex HU.5
wa277
1965
XT455 : Mayhem Paintball Essex by ; 15jun18 pictured (pic2)

Sea King HAS.5
wa 897
1981
ZA136 : Mayhem Paintball, Essex; Fuselage (marked ZA136 / 18) mated to ne ...

Lynx AH1
285
1983
ZD276 : to Mayhem Paintball Essex by Jul 2009
: pictured at Mayhem Paintball, Abridge with Gazelle tail and fene ...


5 Construction Numbers in this organisation found