On 2013, Cherry Point based HMLA-467 was the last USMC squadron flying the UH-1N Huey and transitioned to the new UH-1Y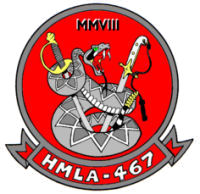 Sabers
, tail code
CA
, stand up on October 2008 from deactivated reserve squadron
HMLA-775
.
They flew the AH-1W and UH-1N.
Scheduled to
return to MCAS New River
in 2014
News about this Rotary Wing Unit :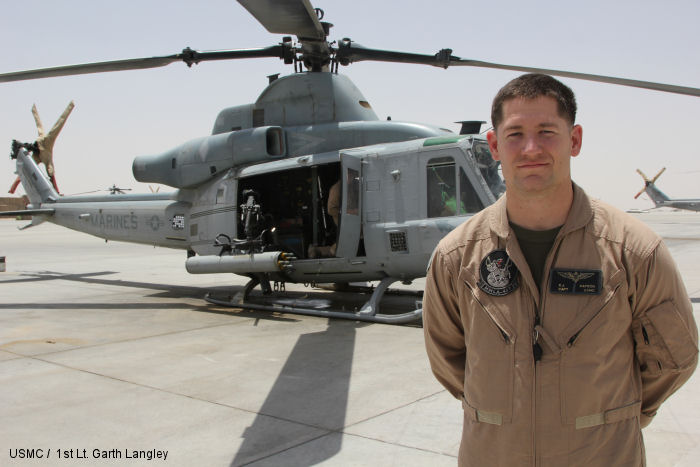 Last Marines in Afghanistan preparing to redeploy, 04-Jul-14 : CAMP LEATHERNECK, Afghanistan by 1st Lt. Garth Langley — Thomas Paine once said, "Those who expect to reap the blessings of freedom, must, like men, undergo the fatigue of supporting it." As the nation honors Independence Day during patriotic celebrations across the nation, deployed U.S. service members with Regional Command (Southwest) paused briefly to honor America, July 4, 2014.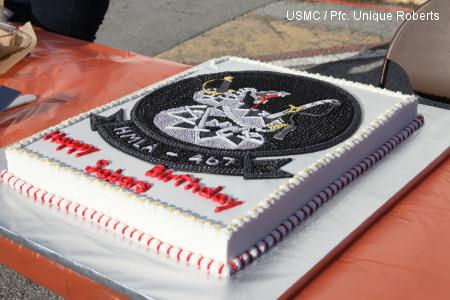 HMLA-467 celebrate 5th anniversary, 31-Oct-13 : by Pfc. Unique Roberts - CHERRY POINT, N.C. - In 2008, the commandant of the Marine Corps proposed to "grow the force," from that idea arose Marine Light Attack Helicopter Squadron 467.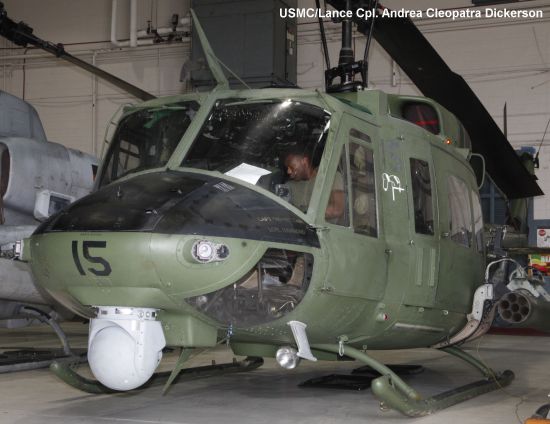 HMLA-467 inducted 3 UH-1N into AMARG, 02-May-13 : MARINE CORPS AIR STATION CHERRY POINT, N.C. by Lance Cpl. Andrea Cleopatra Dickerson - Just a week after receiving its first UH-1Y Venom, Marine Light Attack Helicopter Squadron 467 inducted three UH-1N Hueys into the 309th Aerospace Maintenance and Regeneration Group at Davis Monthan Air Force Base April 24.
Construction Numbers for HMLA-467
Help Us
| | | | | | |
| --- | --- | --- | --- | --- | --- |
| | C/N | Version | Built | In this Org | In other Org |
| | 31403 | UH-1N | | 158232 : Oct11 HMLA-467 /CA-00 at MCAS Cherry point, NC | |
| | 31604 | UH-1N | | 158263 : USMC; HMLA-369 /SM-00; HMM-263 /EG-41; Oct12 HMLA-467 /CA-09 | |
| | 31609 | UH-1N | | 158268 : 2011 HMLA-467 /CA-02; 02aug11 stricken from the US Navy list | |
| | 31611 | UH-1N | | 158270 : Jan.2012 with HMLA-467 at MCAS Cherry point, NC | |
| | 31658 | UH-1N | | 158782 : apr12 HMLA-467./CA-03 | |
| | 31673 | UH-1N | | 159197 : USMC; Sep12 HMLA-467 /CA-04 | |
| | 26078 | ah-1j | | 160113 : 2010 HMLA-467 /CA-26 | |
| | 31723 | UH-1N | | 160173 : USMC; 2010 HMLA-467 /CA-05 | |
| | 31747 | UH-1N | | 160455 : Apr12 HMLA-467 /CA-02 | |
| | 31751 | UH-1N | | 160459 : USMC; 2007 HMLA-167 /VT-02; 2011 HMLA-467 /CA-06 | |
| | 31454 | UH-1N | | 160836 : apr12 HMLA-467./CA-07 | N7274N : CBP reg Jul14 |
| | 26284 | ah-1w | | 164576 : 2011 HMLA-467 /CA-20 | |
| | 26285 | ah-1w | | 164586 : USMC; 2013 HMLA-467 /CA-33 | |
| | 26286 | ah-1w | | 164587 : USMC, conv c/n 29163; 2008 HMLA-775 /WR-705; 2012 HMLA-467 /CA-21 | |
| | 26291 | ah-1w | | 164592 : USMC; 2012 HMLA-467 /CA-23 | |
| | 26314 | ah-1w | | 165054 : 2012 HMLA-467 /CA-22 | |
| | 26336 | ah-1w | | 165288 : 2011 HMLA-467 /CA-30 | |
| | 26339 | ah-1w | | 165291 : USMC; 2010 HMLA-467 /CA-32, 2012 still | |
| | | ah-1w | | 165392 : USMC; 14oct05 as /SN-169 HMLA-169 at MCAS Miramar, CA; 20oct11 pictured as+ | |
| | | UH-1Y | | 168504 : USMC; 2013 HMLA-467 /CA-02 | |
| | | UH-1Y | | 168507 : USMC; Dec13 HMLA-467 /CA-04; 23jan14 pictured still at MCAS Cherry Point | |
21 serials found for HMLA-467