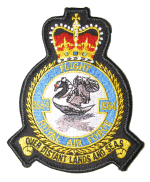 Formed as a Mediterranean fixed wing Meteorological Flight in Libya in Dec 1942 and disbanded after WWII at Istres (France) in Jun 1946. It had three more activations as a rotary wing unit. It reformed as 1564 (Helicopter) Flight from part of
103 Squadron
at El Adem, Libya in Aug 1963 with Sycamores and Whirlwinds, to disband again in Dec 1966. It reformed with Whirlwinds from D Flight of
22 Squadron
again at El Adem, to disband in Cyprus in Mar 1970.
The Sea King HAR.3s of C Flight,
202 Squadron
were sent from
RAF Coltishall
to 
Navy Point
, Stanley (FI) in Jul 1982 and became 1564 (Tactical Support) Flight in Aug 1983. It continued to provide CSAR and SAR cover until it amalgamated with the Chinook HC.1s of
1310 Flight
and disbanded, to form
78 Squadron
in May 1986 at RAF Mount Pleasant.
Reformed at RAF Mount Pleasant from elements of 78 Squadron in 2007, to provide a SAR service with Sea Kings, planned until Apr 2016 when the service will be privatised.

1564 Flt List of helicopters

Help Us
C/N
Version
Built
In this Org
In other Org
wa110
har.2
1956
XJ764 : HAR.10 CFS (H); 22 Sq; 1564 Flt; 1563 Flt; 22 Sq; 84 Sq / T

13404
Sycamore 4
1956
XJ895 : 275 Sq; 284 Sq from Sep 1959; El Adem Stn Flt; 103 Sq; 1564 Flt; CFS / S-J

13444
Sycamore 4
1957
XL824 : 284 Squadron from 1958; 103 Squadron from Aug 1959; 1564 Flight; CFS(H) fr+

XL824 : pictured at Aerospace Bristol museum, on the north side of Filton.

wa 852
har.3
1977
XZ586 : 2008 as 1564 Flight /B
: ex 1564 Flt Sep 2009; 22Sq /B by Oct 2009; 22Sq E Flt by Jul 2010

wa 858
har.3
1978
XZ592 : 2000 202Sqn /S; 2008 1564 Flight

- XZ592 : preserved on static display at Morayvia Science and Technology Centre, Kin+

wa 886
har.3
1980
ZA105 : /Q dep Brize Norton for 1564 Flt end Oct 2009

wa 947
har.3
1985
ZE368 : Fleetlands by Aug 2009; 1564 Flt /R by Oct 2009

- ZE368 : 17feb16 sold, gone to Durham
: at mini moo's farm, Edmondsley, Durham. DH7 6EY
: airframe at Holmside Park Arena, Holmside Lane nr Chester le Street DH7 6E+