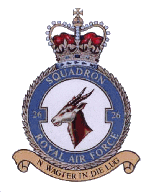 Formed on 8 Oct 1915 at Netheravon (EGDN), it left for East Africa, serving for a little over 2 years before returning to the UK in Jul 1918 when it disbanded. It reformed 11 Oct 1927 as an Army Cooperation unit and served throughout WWII, disbanding at Lubeck on 1 Apr 1946. Reformed the same day as a fighter unit from 41 Squadron. It disbanded at
Gütersloh
on 30 Dec 1960.

Its rotary wing service began at RAF Odiham (
EGVO
) where it formed with the Belvedere HC.1 in Jun 1962. The unit administratively moved to RAF Khormaksar in Aden in Mar 1963, while its Belevederes staged in from the UK in pairs, over a period of a year. It played a key role supporting operations in the Crater and Radfan areas. Temporary detachments occurred as trouble flared, for example, 2 of the Unit airframes accompanied Royal Marines on
HMS Centaur
to
Dar-es-Salaam
on 21 Jan 1964.
It disbanded on 30 Nov 1965 shortly after its
Belvedere
HC.1s had left for
Singapore
aboard
HMS Albion
for
66 Squadron
s use.

26 Squadron's last period of service was from 3 Feb 1969 as a fixed wing Communications unit, until 31 Mar 1976 when it was disbanded.

26 Squadron List of helicopters

Help Us