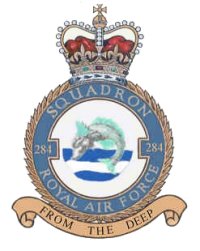 Raised as an Air-Sea Rescue unit during World War II at Gravesend on 7 May 1943, it disbanded in Italy on 21 Sep 1945.
Its helicopter association was short, when it reformed in Cyprus at RAF Nicosia on 15 Oct 1956 with 14 Sycamore HR.14s drawn from the incorporation of other
Flights
. These were supplemented with a few Whirlwind HAR.2 from Nov 1956. It disbanded on 1 Aug 1959 when it was renumbered
103 Squadron
.

---
I vaguely remember 284 Sqn having a selection of of different aircraft at Nicosia in late 1958. A Dragonfly, a Chipmunk, a Twin Pioneer, 2 Single Pioneer, a Sycamore and a Pembroke. I believe they were employed in anti-terrorist operations against EOKA which included leaflet dropping and "sky shouting". The Pembroke tested its system by flying around RAF Nicosia whilst broadcasting Elvis Presley songs - sections were invited to report on the quality of their reception. MGR

284 Squadron List of helicopters

Help Us
| | | | | | |
| --- | --- | --- | --- | --- | --- |
| | C/N | Version | Built | In this Org | In other Org |
| | 13370 | Sycamore 4 | 1955 | XG516 : w/o 18 Feb 1957, rolled over after rotors struck tree during landing, whil+ | |
| | 13379 | Sycamore 4 | 1956 | XG539 : w/o 1 Aug 1958 after tail rotor struck cables in the central Troodos Mount+ | |
| | 13381 | Sycamore 4 | 1956 | XG541 : w/o 20 Jul 1958 when struck ground during forced landing, while with 284 S+ | |
| | 13382 | Sycamore 4 | 1956 | XG542 : w/o 4 Jun 1958, when rolled over after snagging tail rotor, while with 284+ | |
| | 13386 | Sycamore 4 | 1956 | XG546 : w/o , asg 284 Sq destroyed by ground resonance when landing at Platres, Cy+ | |
| | 13387 | Sycamore 4 | 1956 | XG547 : Built at Weston-super-Mare as HR.14. 284 Sq / 5 by Nov 1956; CFS/S-T, to 8+ | - G-HAPR : To British Rotorcraft Museum by Mar 1978 as XG547/S-T, still there Jun 197+ |
| | 13390 | Sycamore 4 | 1956 | XJ383 : w/o 26 Jul 1957, rolled over during take off nr Agios Nicholas, while with+ | |
| | 13404 | Sycamore 4 | 1956 | XJ895 : 275 Sq; 284 Sq from Sep 1959; El Adem Stn Flt; 103 Sq; 1564 Flt; CFS / S-J | |
| | 13405 | Sycamore 4 | 1956 | XJ896 : w/o 10 Feb 1958 when crashed into mountain in Cyprus, while with 284 Sq. | |
| | 13406 | Sycamore 4 | 1956 | XJ897 : 284 Sq; 103 Sq from Aug 1959; 1563 Flt from Aug 1963; CFS | |
| | 13408 | Sycamore 4 | 1956 | XJ898 : 284 Sq; 103 Sq from Aug 1959; 1563 Flt from Aug 1963; Khormaksar SAR Flt; + | |
| | 13444 | Sycamore 4 | 1957 | XL824 : 284 Squadron from 1958; 103 Squadron from Aug 1959; 1564 Flight; CFS(H) fr+ | XL824 : pictured at Aerospace Bristol museum, on the north side of Filton. |