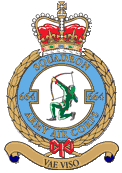 Initially formed as an
RCAF
Air Observation Post unit with Auster IV and Auster V at
Andover
. After disbandment in
Germany
on 31 May 1946, it was reformed as an Auxilliary unit on 1 Sep 1949 managing Nos. 1964, 1965, 1969 and 1970 Flights - all of which disbanded again on 10 Mar 1957.

Reformed in the UK on 24 Oct 1969 as part of
3 Div Aviation Regiment
supporting Airborne forces; indeed between 1971 and 1978 it was known as 664 Para Squadron.
It was re-assigned to British Army of the Rhine in 1978 as part of
4 Regiment
. While stationed at Minden, the unit maintained a small detachment of Scout in Belize between Apr 1980 (relieving
656 Squadron
) and 1982. In Jan 1983, 664 resumed its independence from Minden, in direct support of 1 (BR) Corps (itself at Bielefeld). Around 1989 the unit with its Gazelle AH.1 became part of 4 Regiment, until Mar 1992 when it returned to the UK.
It deployed to Camp Bastion (Afghanistan) between Aug and Nov 2006. The unit moved its Apache AH.1 from Dishforth to Wattisham and became part of
4 REGT
on 31 Aug 2007, as part of the AAC restructuring to single model Regiments.

Between 28 and 30 Aug 2018, prepared for Oman deployment with
Exercise Archers Alastor
, holding live firing at the
Holbeach
Air Weapons Range on The Wash and forward re-arming at the disused
RAF Sculthorpe
. Detached at least 2 Apache AH.1 to Oman around Oct 2018 to
RAFO Musannah
for Exercise Saif Sareea 3.

---
In the 1970s 664 Squadron was the Parachute Squadron based at Farnborough in support of the Parachute Regiment. The squadron had 6 Bell 47 Sioux AH1 and 6 Westland Scout AH1 helicopters.

The a/c at that time were Sioux AH-1: XT163,XT164,XT250,XT553,XT562,XT800. Scout AH-1: XR636,XR639,XR616,XR618,XP853 - the latter replacing XR636 which was written off in a fatal crash in Northern Ireland on 12 April 1974