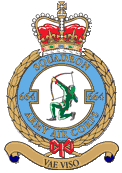 Initially formed as an
RCAF
Air Observation Post unit with Auster IV and Auster V at
Andover
. After disbandment in
Germany
on 31 May 1946, it was reformed as an Auxilliary unit on 1 Sep 1949 managing Nos. 1964, 1965, 1969 and 1970 Flights - all of which disbanded again on 10 Mar 1957.

Reformed in the UK on 24 Oct 1969 as part of
3 Div Aviation Regiment
supporting Airborne forces; indeed between 1971 and 1978 it was known as 664 Para Squadron.
It was re-assigned to British Army of the Rhine in 1978 as part of
4 Regiment
. While stationed at Minden, the unit maintained a small detachment of Scout in Belize between Apr 1980 (relieving
656 Squadron
) and 1982. In Jan 1983, 664 resumed its independence from Minden, in direct support of 1 (BR) Corps (itself at Bielefeld). Around 1989 the unit with its Gazelle AH.1 became part of 4 Regiment, until Mar 1992 when it returned to the UK.
The unit moved its Apache AH.1 from Dishforth to Wattisham and became part of
4 REGT
on 31 Aug 2007, as part of the AAC restructuring to single model Regiments.

---
In the 1970s 664 Squadron was the Parachute Squadron based at Farnborough in support of the Parachute Regiment. The squadron had 6 Bell 47 Sioux AH1 and 6 Westland Scout AH1 helicopters.

The a/c at that time were Sioux AH-1: XT163,XT164,XT250,XT553,XT562,XT800. Scout AH-1: XR636,XR639,XR616,XR618,XP853 - the latter replacing XR636 which was written off in a fatal crash in Northern Ireland on 12 April 1974