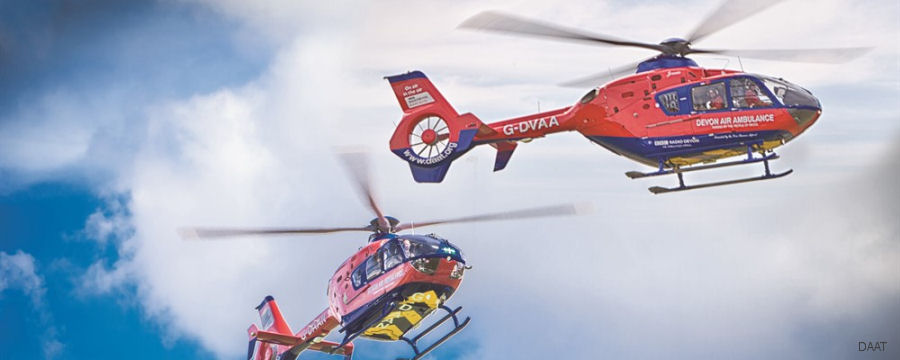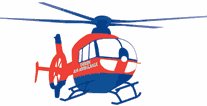 Following the initial appeal to the public for funds in 1986, the service commenced on 27 Aug 1992. In UK terms, Devon is a big county to cover. To reduce cost and establish a close liaison, the south Devon service is co-located with the
Devon and Cornwall Police
helicopter. After the success of this Exeter based service, a second helicopter was introduced in Apr 2005, based in north Devon to reduce flight times. It moved to its present purpose-built building on the south side of Eaglescott in early 2007.

The Devon Air Ambulance Trust (DAAT) owns its two helicopters.

In 2022 Devon Air Ambulance was tasked to 1,255 missions by helicopter and 573 missions by Critical Care Car.
Models
Devon Air Ambulance List of helicopters
C/N
Version
Built
In this Org
In other Org
1080
ec135p2+
2012
G-DAAN : Devon Air Ambulance Dec12
: Devon Air Ambulance; pictured at RIAT 2013 RAF Fairford
: Devon Air Ambulance changed ownership from
HLE70 :
HMED71 :

D-HECG
G-DAAN

20311
h145
2020
G-DAAS HLE70 : Devon Air Ambulance Trust
: pictured (pic1) at homebase for first time
: entered service
: at Derriford c 13H30.

G-DAAS

0312
ec135t2
2003
G-DAAT : Devon Air Ambulance Trust leased from Bond Aug04-2013
: Air Ambulance; 2011 Devon Helimed 04
: 11jul12 pictured at Bude Rugby Club, Cornwall

G-DAAT
G-DAAT
G-NWAE
G-NWAE

0656
ec135t2+
2008
G-DVAA : Devon Air Ambulance from Aug 2008
HMD71 :

D-HECL
G-DVAA

S-135/914
105d
G-NDAA : Devon Air Ambulance in red livery

G-WMAA
G-NDAA