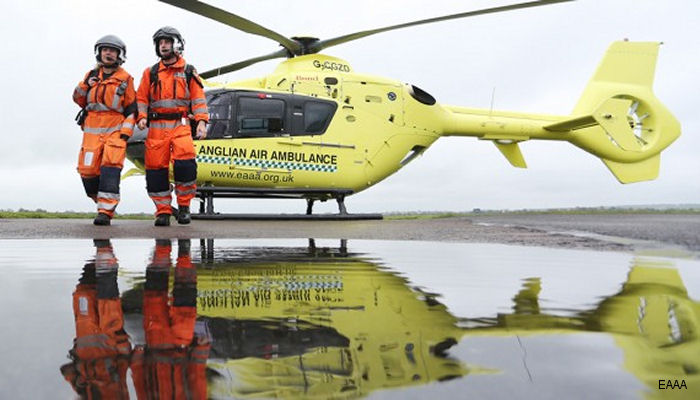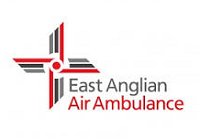 Although shown under Government Organisations, East Anglian Air Ambulance is a charity, relying entirely on public donations to maintain and improve its operations. It was formed in summer 2000 and works closely with the East of England Ambulance Service and NHS Primary Care Trusts (PCTs) across the region. Its first mission was flown in Jan 2001 with
Anglia One
, a bright yellow
Bo 105DS
, based at
Norwich
and maintained by
Sterling Helicopters
. By May 2001, it had increased operations from one day a week to five days a week and was covering Cambridgeshire, Norfolk and Suffolk.

Following the launch of a
BK117
as a replacement
Anglia One
in Apr 2006, the original Bo 105 has gone into reserve and the service has been supplemented by a second bright yellow BK117 (
Anglia Two
), based at
RAF Wyton
, which has taken over the Cambridgeshire cover and extended it to Bedfordshire as well.
Anglia Two
moved to Cambridge from Jan 2011.

On 7 Mar 2011, the contract for the two BK.117s was terminated and Bond Helicopters had provided a pair of Bo.105 until Aug 2011. From then, a single Bond-provided EC-135 has taken over the service temporarily, alternating between Norwich and Cambridge bases. A permanent airframe arrangement awaits a revised procurement process.

As of 2017 EAAA flies two brand new H145 / EC145T2 helicopters. G-RESU (Anglia One) located at Norwich Airport and G-HEMC (Anglia Two) located at Cambridge Airport (Marshall).
News of East Anglian Air Ambulance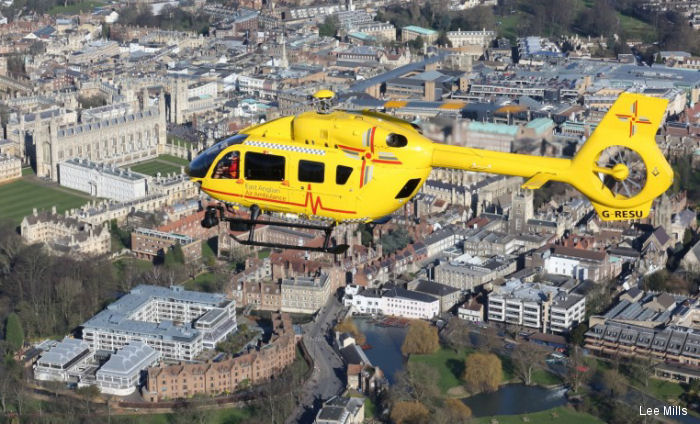 UK Air Ambulances H135 and H145, 14-Jul-16 : UK new Helicopter emergency medical service (HEMS) H135/EC135T3 and H145/EC145T2 helicopters showcased at Farnborough Air Show 2016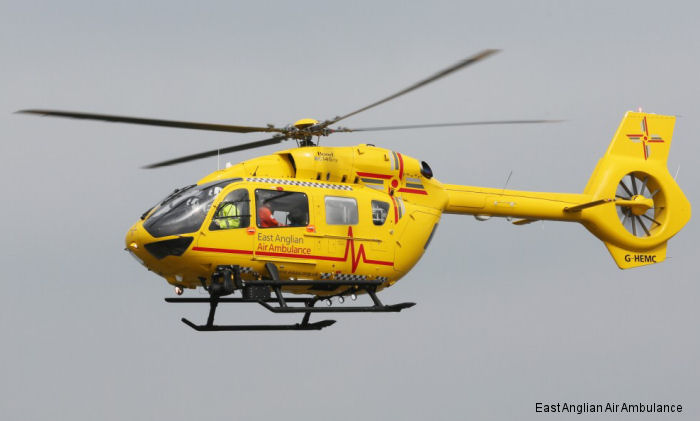 East Anglian Air Ambulance First Saving With H145, 22-Apr-15 : United Kingdom s first H145 / EC145T2, operated by Bond Air Services on behalf of East Anglia Air Ambulance (EAAA) has completed its first mission transporting a patient to the Royal London Hospital