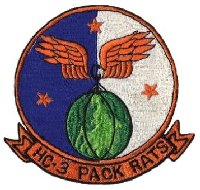 Pack Rats
, tail code
SA
, HC-3 was established on September 1st 1967 at Naval Air Station (NAS) Imperial Beach. At that time, HC-3 was the only West Coast VERTREP squadron. Operating from Combat Logistics Force (CLF) ships, HC-3 detachments transferred critical supplies to forward deployed ships via helicopter, affording maximum mobility to the Battle Group. In July 1973, HC-3 moved to its present location aboard NAS North Island.
The squadron celebrated 50,000 Class A Mishap-free hours in 1981.
Redesignated Helicopter Sea Combat Squadron THREE (
HSC-3
), Merlins, on April 2005.

---
I am a Plankowner of HC-3. I was the last pilot assigned or should say hijacked By The first CO form
HC-1
as I was checking in for my assigned duty., At that time Cdr. Hank Cassani.. We were assigned the 5 quansett huts at Imperial Beach as our base of operations and had a total of seven H46 A , 2 on det rest 5 for base. it took the crew of HC-3 4 month's to have all 5 plus 2 det 46's in up and ready flight status. This Squadron from the CO to the E-1 were a family and I suspect all that followed carried on this tradition. Then we had few of the gadgets that were incorporated in the later versions of the aircraft . But the helo's we used on Det 103 aboard the
USS Camden
(AOE-3) which was the first Det assigned after the formation of the SQUADRON flew SA-10-& SA-11. on assignment to Support the naval operations in Vietnam. we experienced no safety issues and on frequent trips inland to Vietnam supported our aircraft with need parts and maintenance supplies. We set a record lift of over 8600#'s on that cruise. hope to make a special day in 2017, Sept.1, of course for the 50th Anniversary of formation of HC-3 Pack Rats. See if you can figure out why we called ourselves Pack Rats ?

I was also a Plank Owner in HC-3. I was an ADJ and Aircrew. I arrived at HC-1 in June 66, went to several AD schools in El Toro almost immediately, then Hand to Hand Combat, Survival School at Warner Springs, and lots and lots of training. Brown Field, San Clemente Island. Lots of folks remembered but, I have only seen one since I left Reem Field. Jim Gibson.

I was also a plank owner and deployed DET 102 on board
USS Sacramento
(AOE-1). Hoping to make contact with other squadron members and especially DET 102 crew. We may all be suffering from AO Exposure and need each support.

1967-1969, I also was a Plank Owner in HC-3. I was an AK involved in the initial tool and equipment acquisition to outfit the squadron. M.Tryon

This unit as HC3 flew supplies with the H-46 from AFS ships into various bases in Vietnam

Call sign during Vietnam was
LANSLIDE

1968-1969, I was a member of HC-3 and remember working out of the quansett huts at NAS Imperial Beach and later was part of Det 103 aboard the
USS Camden
(AOE-2). I was part of the crew when set the record lift record (8600 lbs) by delivering a jet engine (J79 ?) from the Camden to a carrier (can't remember the name). I also watched the helo crash into the ocean on the last day of our cruise just offf Imperial Beach where I lost some friends. ,I don't remember the dates of that cruise. if you know please let me know

I was on the Camden. And then the San jose I know Drew and Turk. And Manley I was an adj . I'm being treated for SO. Ptsd.

1968, My husband was with HC-3 Det.103 aboard USS Camden (AOE-2) retrieving airplane parts,etc into Da Nang, Vietnam

1968-1970, YN-3 Bill Carlisle, I was Cmdr. Mulcahys Yeoman. Did all things to support all officers including flight logbooks to personal leave. Received call the day a helo crashed at sea off Imperial Bch. -

1968-1971, I was on Det.103 detachments. I was the first guy in the water that morning of the Crash in 1969. Two guys got out & I think three went down in the Helo that came out from Imperial Beach to Off Load Us. We got the Co-pilot & a chief who was the Crew Chief on the flight, The Pilot was on the Camden on the First Det. 103. We Lost Willie, our Aviation Electronics guy that Morning. I also remember Lefty punching a reporter from a TV station in San Diego that afternoon. He kept asking us how it felt to be home from Viet Nam. LEFTY, let him know how ignorant he was. I was Called the Walrus in those days, as we all had nicknames.

Aug69, I was an ADJ-3 with HC-3 in Imperial beach. I was there the day the Camden detachment returned, and we (HC-3) lost the helo. I lost a friend myself that day. I left on detachment myself later in Jan-Feb 1970. Served on a total of 4 detachments 1970-1972 as ADJ-2 and as aircrew.

1969-1970, I was on Det 103 and was on the flight deck when we lost that helo that had come out from NAS Imperial Beach with another H-46 to help us off load. It was still early morning and dark with all light from shore or stars blocked by clouds/fog. The helo lifted off the deck and was about 100 feet in the air off the port stern when it slowly descended and touched the water lightly, rose back up about 100 feet and then came down hard and impacted the water. I can still remember watching the anti collision light on the aft pylon still rotating as it sunk very quickly. I and others quickly pulled out one of our 46's and got the blades unfolded and quickly got in the air. In the mean time the ship had done a tight turn and had rescue boats in the water and managed to pull out the survivors. I was in that helo and by the time we got to the crash sight there was just some wreckage floating in the water. The ship's Captain wanted us to go into the water to pull out wreckage for an investigation but because of visible sharks in the water we flew back to NASIB and got a grappling hook and flew back with that to retrieve as much as we could. Some years ago I obtained a full copy of the Navy's accident report. their finding was that both the pilot and co-pilot had vertigo caused by the darkness and lack of horizon. I also believe that the original intention had been to have the two H-46's from NASIB arrive at the Camden about daylight but that the ship had indicated that it was further out than it actually was causing them to arrive earlier and in full darkness. We had had numerous problems from having a ships Captain that knew nothing about aircraft operations! Sad day in my life and still vivid in my memory after all these years. Can't say enough about the great pilots I flew with on Set 103.

1971-1976, I was an AE-1 made WestPac DETs on USS Sacramento (AOE-1), USS Camden (AOE-2) and
USS San Jose
(AFS-7) I was A/C vertrep. one of our 46's had the rotor positioning pin slam home while in flight during mine sweeping ops. only casualty we had.

1971-1973, I was with HC-3 when I was commissioned and send to NAS P-Cola. Made deployments on USS Camden and USS Sacramento. Had a great time and loved having four NEC's. 27 years later retired and spent 15 years with the Space Shuttle program

1973-1975, I was stationed on NAS NORTH ISLAND attached to HC-3. I was assigned to the line crew and then became a plane captain. Afterwards I became and inspector. As a plane captain I performed daily inspections on the ch46d helicopter. We were also assigned to train others to become plane captains before becoming inspectors. As inspectors we followed the plane captains and their trainees to sign off whether the sea knight was ready for flight. I must say that it was my best attachment in the Navy.

1973-1976, I was in HC-3. Our tail numbers were SA, not VH

1973-1977, I was a crew chief with the squadron. I was on several deployments and we too picked up the J-79 jet engines spoken of earlier. We had helo instrument problems when leaving the Camden after detachment and had to crash land in Mexico. I was the crew chief on a salvage operation at the base of El Capitan Mt in Yosemite national park, helped find a downed airplane in the Mohave desert, Cross detached during my last year with the squadron. We were sent to Viet Nam with the Camden for only three days to participate in an operation but no records have been produced that it ever happened. I was also on a medivac with a oil rig divers with the bends and had to break into the Navy Seal Base. Never heard whether the guy died or not, he didn't look real good. My stories are many and would like to talk to other HC-3 members at the same time.

1974-80 arrived as an Atan on shore duty. There was a gap in at s on the White Plains so I volunteered. Got interested in flying. Then AD J 2 Guy Mockler and AD1 Dave Penn took me under their wings and showed me how to be an A/C. Came back off deployment and went thru Sere and Sar schools with a 2 yr extension added. Loved flying and ended up doing another 30 months with det 106. Burned out I left to Nas Brunswick to fly SAR there. Then I converted to P-3 Orion and did another 10 yrs with VP-44 and CPW-5. Dave McCormack

1974-1977, I was a plain captain and did two deployments on the
USS White Plains
(AFS-4). Would like to see some of the guys that were there during that time period

Hi all, I have an entry on this page already. I served from 1973 to 1977. Made three cruse's, was on the Camden, White Plains, Niagara Fall's, and the Mars. Spent a sort time on the Enterprise and Constellation. I was a Crew Chief for the time.

1976, I was with Det.102 on the USS Camden. Let me know more about AO exposure. I have health problems

1977-1980 I was assigned shore duty in the airframes division, became a CDI, second shift flight line trouble shooter, and shop training P.O. -

1980, I was with Det.104 on the
USS Mars
(AFS-1) then cross deck to the
USS Flint
(AE-32) with CH-46D /04 and /10

1982, HC-3 was my first squadron when I came into the Navy. CDR Mann was CO at the time. I reported aboard 01 Oct 1982. I looked at those monsters and wondered how I would ever learn to work on them. I did the usual....1st LT, Line Div., then Powerplants. "Pappy" Jenkins did my Plane Captain walk-around. He was the oldest aircrewman in the Navy at that time. He taught me a lot. The best job I liked was doing a Rotor Phase. I went on a couple short dets.....one to Eureka,CA and one to Hawaii. Both on USS Vancouver LPD-2. It was an experience I will always remember. - ADC (AW) ret. Stephen R. Boyer -

2004-2006, I was stationed at HC-3 finishing up my last 2 years of my 10-year career. I had just put on first class, and because of the new rules I was able to take the Chiefs test immediately and made board. The squadron is completely transitioned to the H-60 at this time. A new building had just gone up, brand new maintenence record program. We even started using lean manufacturing techniques to speed up our phases of the aircraft and reduce man hours. I got time spent as a TFO and QAR cross-trained in just about everything. It was a short duty command so I worked real hard but I also kind of played hard and I had some personal issues with some people that I wasn't aware of and destroyed my career around my back. I really miss the squadron miss the people. I have fallen victim to a scam now, as I served in the navy,back home government, family and friends ripped me off. AT1 (AW) Jonathan Todd Carlson