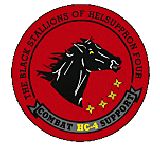 1960 - Helicopter Utility Squadron Four (HU-4)
1965 - Helicopter Combat Support Squadron Four (HC-4)
1973 -
HSL-30
1983 - Reactivated as
HC-4 Black Stallions
, tail code
HC
2007 - disestablished
HC-4 provided a detachment of CH-53E for logistics support for the 5th Fleet, in
Bahrain
from Apr 1992. It handed over the mission to
HM-14
on 10 Aug 1999.

---
I was stationed in NAS Lakehurst and served with the squadron till June 1968. My service included a time with detachment 36 in Vietnam. We lost
scooter 54
on april 8, 1968 6 miles off the coast of Vung Tau. I was the combat aircrewman, assigned with pilot Lt Carl Park and Ltjg Grahm co-pilot. Thanks to the two great aviators we and three passengers made it home. I was known as Dee Deacosta then. Anyone knowing of anyone from this still alive and well please contact

1963-1966 I was station at Lakehurst, NJ. I was at the cermony when we change the squadron from HU-4 to HC-4 in 1965. I was a plane-captain on UH-2A/UH-2B, UH-1, CH-19 i had a great time flying in those great helicopters. I also was sent on many ships. USS Wright (CC-2) and USS Northampton (CLC-1), plus flew aboard many other ships. Please send any info about the squadron after 1966

1966-1967, I was in HC-4 at the Norfolk Naval Air Station. Flew in the H-46, SH-3, and H-34's. Went aboard the
USS Camden
(AOE-2) the first fast attack supply ship to train them in flight operations. AT2 Mark Linn

Apr66 till discharge Nov67 I was Officer Records Yeoman/YN3 CDR Sharpe and CDR Cook we CO/XO during this time. Anyone remembering me and would like to talk my name and email follow. Tim Spiese YN3

1966-1968, I came to hc4 I was a pr my po in charge was pr1 Meehan I worked in the paraloft we packed chutes at mad paraloft in hanger 1. I still stay in close contact with tom Chesery he was a yeoman does anyone remember leading chief Scotty my name is Ricky montez.

1966-1969 Hi, Jack here, I was stationed with HC-4 at Lakehurst hanger4?, was AE4. Would like to here from HC-4 guys back then. jackomurph at aol com

1967-1969, I was stationed at NAS Lakehurst in HC-4. I was an aviation structural mechanic(ams)2nd, H-2 plane captain and SAR aircrewman. Made 1968 Med cruise aboard
USS Little Rock
(CLG4) Det47, with LTJG Stevenson and LT Rader. Always loved to fly in those helos. Many great memories, great people and great times. The Little Rock is now a museum ship moored at Buffalo New York. My name is Gary Andrews.

Jun67-Jun69 I was in HC-4 at Lakehurst Naval Air station. I was an Aircraft Electronics Tech. I was on detachments on the
USS Little Rock
(CLG-4),
USCG Edisto
(WAGB-284), and the
USS Springfield
(CLG-7). I have been trying to find some our squadron member. You can find me on FB. Mark Clatterbaugh

1967-1970 I was stationed at NAS Lakehurst and attached to squadron HC-4. I was an aviation electrician and combat aircrewman on the UH-2B. Seen detachments to the North Pole aboard the coast guard icebreaker,
USS Westwind
, and also Westpac, operating off the USS Mt. McKinley. Great time of life and would recommend to any young person searching for opportunities. Name - Steve "Doc" Doctor, Go Navy!!

1967-1970 I was in HC-4. ADJ2 aircrewman, plane captian, detatchment crewleader. Still had 6 H-19s when first there. The UH-2C was just coming on line when I got out. Also aboard the Mt. McKinley (AGC-7/LCC-7) Det.36 departing from the Clevland in Dec 1969. Best I recall you were there with me Doc Ltjg Graham was also with us for a while on that deployment. Ive got pictures in a box somewhere. Others I recall on that cruise were Randy Whitten, M A Watts, Eric Erickson, Steve Doctor, Jeff a kiddie cruiser from Wis and Joe an AE from Fla. The Gray Ghost saw service from DaNang to Vye, Cam Rahn Bay and Saigon. My name is Pat Morris.

1968-1970.
Det.36

Apr69-Dec70 I was in HC-4 stationed at Lakehurst when I got out of the Navy. I was an aviation electrician mate and spent short periods of time on the USS Independence, the Lexington, and the USS Raleigh, while attached to HC-4.

late 1969, I arrived at HC-4 and until I left the service Jan72. I was a plane captain, and air crew. Sailed on USS Newport News (CA-148) and USS Pocono (AGC-16). Veterans Day makes you remember those fond memories. While looking for photos of HC-4 squadron, I found this site. Elmer Bott

1969-1970, looking for the guys that went cruising with me on the USS Lexington (CV-16). AMS-3 Moyer

Oct92-Jul93 I was stationed with HC-4. It was my first helicopter squadron in my then 18 year career. I was assigned to the training department and maintenance during this time. I was TAD twice, both times to Naples from Sigonella. I never found a purpose of the squadron since no ship wanted us to come on board because of the size of the helicopters. I never felt it was a safe and never really wanted to fly in it. I wasn't in the squadron long, due to some medical issues and never missed it after I came back to the states.