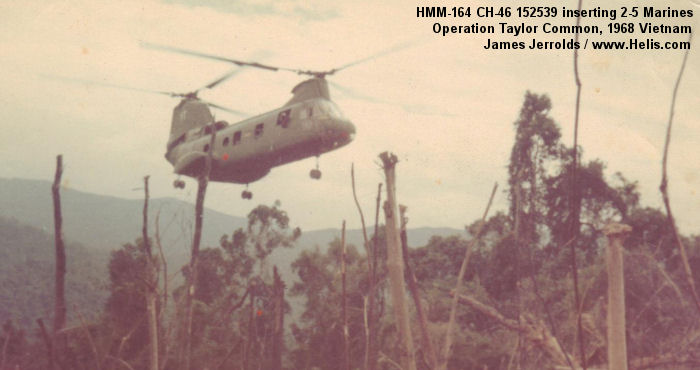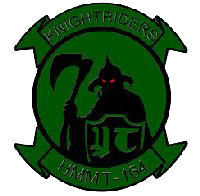 The
Knightriders
, tail code
YT
was created as Marine Medium Helicopter Squadron 164 (HMM-164) in July 1964.
In February 1999, the Squadron was re-designed Marine Medium Helicopter Training Squadron 164 (
HMM(T)-164
) and was tasked to become the Marine Corps Fleet Replacement Squadron for the CH-46E.
On February 2013 the squadron graduated the last eight
CH-46 crew chiefs
.
On March 2015 HMMT-164, which was the first and last Marine squadron to operate the Sea Knight, was reduced to only two aircraft after they sent the rest to Davis-Monthan Boneyard. The last one will be sent to the Marine Corps Museum.
Redesignated
VMM-164
on April 2015
27 CH-46A Sea Knights of HMM-164 arrived at
Marble Mountain
, South Vietnam on 8 Mar 1966. They were joined in Jun 1966 by the CH-46 of
HMM-265
.

---
1964, Was one of the first to transition to the ch-46 from the H-34. Left
HMM-361
to develope 164. A great transition, only to requal in the h34 to be sent to VNam in 1965.

Dec66, I was a crew chief with
HMM-262
and deployed to Vietnam with the A model. I transferred to HMM-164 in Feb67. We received the D model later that year. I served 19 months in combat and flew on over 300 missions - From the Battle of the Hills to the Tet Offensive to the 77 day siege on Khe Sahn. I have written a book about my time in-country. It is entitled - Flying Death The Vietnam Experience. It is a different perspective of the war as seen through the eyes of a combat helicopter crew chief. The CH-46 is one of the finest helicopters ever built. Its history speaks for itself - In Service for almost 50 years.

1968-1969, I served with hmm164 at marble mtn and phubai and on tripoli and vally forge 68 and 69 till they shipped us to okiniwa. served as operations flight records/ door gunner. all were great to serve with i have a picture of our gun ship the armorer rigged up but we had to remove as stateside higher ups said not our job to be a gunship. 4 m 60s on racks operated by pilot two 50s for crew chief and gunner and a lot of other spots to shoot out of coach windows ha ha ha. could have a 30 cal or m60 mounted on back by ramp also. also have viedo of t burton and other pilots on vhs courtsey of freedom hill films. cpl j m jenkinson -

1969 westpac, HMM 164 was also embarked aboard
USS Valley Forge
(LPH-8). Flying CH-46A helicopters it supported a Battalion Landing Team (BLT) of the Third Battalion 26th Marines 3/26 under command of Lt.Col Richard T, Trundy USMC. HMM 164 supported the BLT during "Operation Brave Armada" July 22-8 August 1969 in direct combat in the Quang Ngai Province, South Vietnam. It flew direct combat insertion and MEDIVAC, supply, and equipment.

1969, with hmm-164 during marble mountain, Quang Tri and several other base locations, under the command of, at the time, Lt Col TRUNDY. One great commander and some damed fine birds. Think of it often. - Thomas Jordan

Mar/Nov 1972, ch-53 crewchiefs onboard the
USS Okinawa
(LPH-3). I was a c/c on YT 25 serial
156656
, we were right there with the 46s and hueys in too big operations in May and July 11 for which I received an Air medal and the Navy Commendation with Valor. I authorized a Vietnamese Cross of Gallantry Unit Citation but never received it. I had to find out on line I was authorized to wear.Thanks for the Memories

Apr75, participated in Operation Frequent Wind the evacuation of Saigon. Helicopter CH-46
153993
picked up last 11 personnel from roof of US Embassy

Apr75, the correct BUNO is 153985; YT-22. I was the crew chief on the helicopter. R/Chris Woods

1976-1977, Served in Okinawa with HMM-164 in GSE for a year. Had a great time in OKI

1980-1982, MCAS Tustin, GSE, time in both hangers, two tours at Futema in Okinawa and performed cold weather traing in South Korea. I recall; It was dark, coming in the back gate at MCAS Tustin one morning, I made out the outline of what appeared to be two airplanes. After arriving in my office which was directly next to the Ready Room, I asked Lt Freeman and was saddened to hear that we had lost Major Long, Captain King, and Crew Chief Cpl Eibach, when one of our airplanes and a CH-53 collided during an external lift. I believe the 1st mech. on the 53 survived when he actually jumped out on impact. This was a horrific day. As GSE, I was selected to the advance party which ferried the new CH-46 echos to Okinawa via C-5A Galaxies. I spent time on LHAs with accompanying Harrier squadrons, time in Yuma and Reno. I enjoyed serving and working with my brothers. -

1980-Sep89, I served as an Avionicsman, Training NCO and Maintenance Controller. I made 4 WESTPAC's, 2 to Okinawa (Futenma) and 2 onboard ships (USS Okinawa LPH-3 and USS Peleliu LHA-5). Sadly, we crashed 4 aircraft in that time, losing the lives of at least 14 of our brothers. The first (mid 1980?) being during routine training over Tustin, our 46 flew into a CH-53 performing external training. The next (Sept 1983?) was a crash on Okinawa when our bird flew into wires; I believe this was a night op. Then I lost my exceptional OIC 1stLt. Chris Toburen while flying NVG's over Camp Pendleton in (mid 1985?), they flew into the side of a hill. And lastly, we crashed a plane on the deck of the USS Peleliu in (Aug 88?). Although all the crashes to me were meaningful, this one had the most impact on me. We were performing a night assault on Camp Pendleton in preparation of our upcoming WestPac, I was the flight deck troubleshooter, and I was called to spot 2 for a problem. When I got there and spoke with the aircrew, they told me one of their engines was showing no oil pressure. Due to the high tempo of operations, the pilots decided to launch with a full aircraft of grunts, without allowing me to do my job. As soon as they pulled the collective, sparks shot out of that engine burning itself up, no oil pressure means no oil to the engine. The crash alarm sounded, they launched all the other aircraft, and brought this one in for a crash landing. It crashed on the stern of the ship and most of the grunts fell out of the ramp into the ocean. One young Marine was never found. In my tenure I went through at least 5 C.O.'s, Muddy Waters, Herbert T. Nance, G.L. Pirtle, H.G. Wilson, and Guy Vanderlinden. We had a stray dog mascot on Okinawa that we named Herbie after LtCol. Nance. HMM-164 was the first squadron to receive CH-46E aircraft, and we in turn took them to Okinawa via C5A Galaxies (3 per flight). We were also the official squadron to support the Exxon Valdez Alaskan oil spill, flying dignitaries, congressmen and media. HMM-164 has always been a very proud squadron, upholding the highest traditions of Marine Corps aviation. I am extremely proud to have been a member for almost 10 years of a 50 year run. I don't know anyone else that was there longer. I thank all my friends, brothers, co-workers, predecessors, and followers for your devotion and love of the aircraft, the unit, the Corps and our country.

The Marine ( Pfc. Marquez ) was actually found months later. My platoon ( 81's platoon Wpns Co. ) was actually on that exercise.

We all get old and memories fade but most of this is factual. Details on the Peleliu are not correct. I was in the overhead Delta... all birds were airborne except one Ch-46... it was turning on the deck as we watched our fuel for like 30 minutes and the Ops Boss Major Hendrickson pressured them to take of from the Ready Room Command Center... They said it was a gauge problem... Fully loaded with 22 souls on board i believe ...PFC Marquez was lost at sea, no other casualties... I never heard his body was recovered? I watched on NVG's as my fellow Pilots and my Marines crashed into the fantail sending a fireworks show of lites on the goggles... we diverted to 29 Palms i think because Camp P Airfiled was closed??? That i do not remember because we assumed everyone was dead!!! In shock and still flying NVG,s in a flight of 11... -

Nov83, My late brother, 1 Lt. Richard A. Dale, was serving with this squadron. During a training deployment to S. Korea, his aircraft encountered a wire strike during conditions of poor visibility. Sadly, my brother did not survive the crash
CH-46 156448
RIP

Camp Pendleton Mishap was Sept 1987. LHA5 Mishap was Nov 1987. Sad days indeed.

Oct91-Jun02, I served with HMM-164 and HMM(T)-164. Then as a civilian contractor Mar11-Feb14. I am very proud of my time in HMM-164 and it was a great squadron. A lot of memories and most all are positive. I do know of 1 Marine that served a longer unbroken term than I did but I don't think he has the total time as I do. I guess I got that going for me! Oh, and I was a maintenance controller and signed the ADB on 152562 countless times. Also worked on it as a flight line mechanic. All 46's are special and are sorely missed. BD GySgt Ret.

News of Marine Medium Helicopter Squadron 164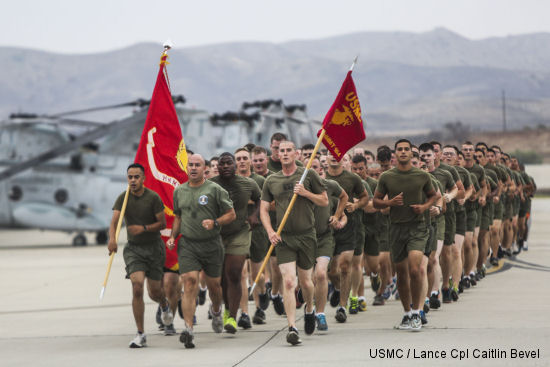 Marines HMMT-164 celebrate 50 years, 02-Jul-14 : CAMP PENDLETON, Calif. by Lance Cpl. Caitlin Bevel - Marines with Marine Medium Helicopter Training Squadron 164, Marine Aircraft Group 39, 3rd Marine Aircraft Wing, I Marine Expeditionary Force, celebrated the 50th anniversary of their squadron and the Boeing Vertol CH-46E Sea Knight aboard Camp Pendleton, Calif., July 1, 2014.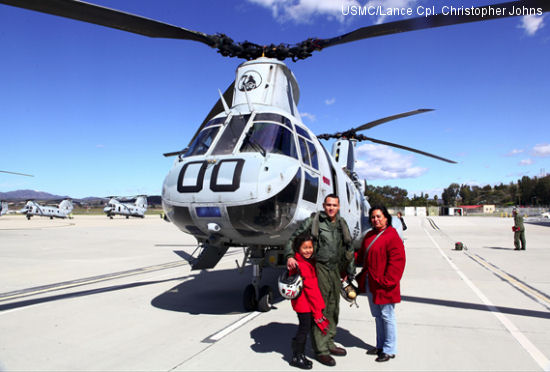 The final eight: last CH-46 crew chiefs graduate, 21-Feb-13 : MARINE CORPS AIR STATION CAMP PENDLETON, Calif By Lance Cpl. Christopher Johns, 3rd Marine Aircraft Wing - The last eight crew chiefs to earn their flight designations in the CH-46 Sea Knight graduated aboard Marine Corps Air Station Camp Pendleton, Calif., Feb. 20.