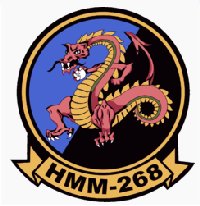 Red Dragons
, Tail code
YQ
1972-77 : Marine Light Helicopter Squadron 268 (HML-268)
1979 - Marine Medium Helicopter Squadron 268 (HMM-268)
Apr14 - Redesignated
VMM-268
---
Before HMM-268 stood up in Tustin in 1979 it was HMLA-268 which was deactivated several years before. A friend of mine was the Ops Chief of THAT 268. I was the third or fourth member to
join
HMM-268 in the beginning. I was fresh off the Drill Field in San Diego and was just freshly promoted to SSgt there and was VERY eager to go to my first Squadron as the Ops Chief! Capt Gary PRICE (Ops) and SSgt Jack PEER (Admin Chief) and maybe SgtMajor GIBB were the 1st two or three if I remember correctly. Soon after that we received LCpl Mark Stettler (S-3). We had no spaces and no aircraft but we due to Stand Up in March. Then we got the CO, LtCol Richard Bianchino, fresh off the olympics team where he had Leon Spinks on the boxing team. This was all in the Jan to Feb 1979 timeframe. We met now and then in the MAG-16 conference room to hold our
musters
. The first 3 aircraft we received could not fly. One was an old pumpkin (A Model)SAR bird from NAS Whidbey Island, Wa. The other two were from the Marine Corps. All had to got o NARF to become flyable. The beautiful patch was designed by Lt John TUCK, also a Plank Owner. He also worked in Ops. Our Stand-Up Formation was held INSIDE Hangar 4 at Tustin because it rained. Our Natops O was the Adj and he passed out from standing at attention too long. It was MOST memorable. Even the CG was there. The other platoon Sergeant and I carried Captain PERRY to the John, loosened his belt and tie and rejoined the festivities. Lt HARPER became the ADJ then. Inside a year it was THE Squadron to be in, no beans about it. On the patch the blue side stands for DAY and the black side for NIGHT. John chose the Dragon because he loved all things japanese and he was a fantastic artist. I have a sort of Cruise Book we photocopied together in Oki in the summer of 1980. I also have the Station Cruise Book for 1980 which covers the whole base and ALL the Squadrons and host Units. I also still have my flight jacket patches. Major Fitzhugh B. LEE was the XO. Major Bobby Garner was the OpsO. He went on to bigger and better things (Including WTI in Yuma). Our first flyers were D Models and gradually we got some Fs. It was a furious and memorable two years for me. I spent twenty years in that job and those were among the best two. I was in 11 Squadrons in 8 Groups. I deployed 7 times off both coasts. It was a hoot. MOST of it was in 46s.
Semper Fly, .50 Cal.
Cal TOBIN Jr
SSgt USMC Retired
Black Hawk, SD.

I was also a Plank Owner of HMM 268 even though I was about to retire. Lt.Colonel Don Frost and the Group Commander cornered me and asked me to pull my retirement request as they needed my knowledge and expertise to put together a new squadron. Needles to say, I accepted and became the AAMO. Capt Joe Belegarde was the AMO and together we got the maintenance department up and running. We were very fortunate to have some fantastic NCO's and Staff NCO's and without them it would have been a lot harder... I joined on 1 March 1979 and retired on 1 March 1980. I waved good bye to all of those fabulous Marines as they got aboard the buses to make their first deployment as the New HMM 268....

I was CPL Sellers, and was one of the original plank holders also, along with CPL Robert Ryan, we were in the metal shop and reported to the unit on March 1 1979, from HMT-301. Our first deployment to Okinawa we along with CPL Pam Morecraft painted the original "HMM-268, Red Dragons" on the first hanger in Fetemia Okinawa. I personally do have the original cruise book from that deployment, along with the original patch. There was a SGT from Avionics, but I can't remember his who designed the patch and also helped paint the emblem on the hanger during the first deployment. In April 2015 HMM-268 became VMM- 268, LTC Bianchino, LTC Forebush (the second squadron commander) and myself were the only members that were in attendance.

Pretty sure it was Major Bianchino when we started. I was one of the first enlisted men in the avionics department. No tools, no helicopters, it was pretty strange. We took a great deal of pride in our work till my discharge in July of 1981. I was in charge of the night avionics crew. Signed, Sgt. Donald C. Rigdon 6612/6632

Shortly after I arrived PFC Daniel P Gonzales arrived SSgt. John Mellish arrived and then I believe 1st Lt. Fred Kunkle arrived all in a little office on the 2nd floor of the H&HS building just around the corner from the MP shack. Mark A. Stetler too many MOS's to remember them all, Jacobus PA

1982-1985, I was attached as Admin Chief for HMM-268. LtCol Whitfield was the CO in 1982, Major Lee was XO. LtCol Whitfield was succeeded by LtCol Verbiel. I made two pumps to Okinawa from MCAS Tustin, CA in 1982 and 1984. Sgt. Mark S. Fisher.

My Father served with HMM-268. Those of you who were at the Tustin Air Station, AKA .. LTA, will most likely remember him for being "by the book." MGySgt. RL Curtis passed away on May 3rd, 2019. He is buried at the VA cemetery in Fernley, NV. Red Dragons, carry on the Honor and Loyalty. -

Models
Marine Medium Helicopter Squadron 268 Operations