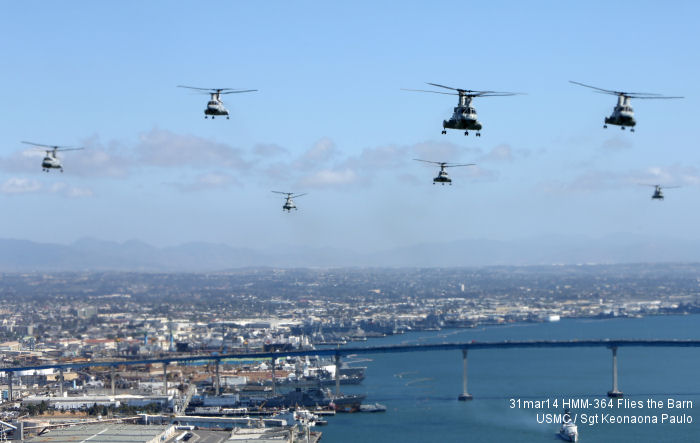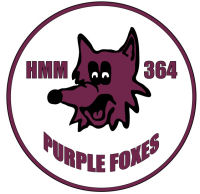 Purple Foxes
, tail code
PF
1961 Sep/Nov : Marine Light Helicopter Squadron 364 (HML-364)
1961Nov - 1971 : HMM-364
1984 - : HMM-364
On August 2014 they made the last time an operational CH-46 squadron deployed outside of the United States during POA 2014 in Chile.
October 2014 redesignated
VMM-364
. HMM-364 was the last Marine medium helicopter fleet squadron to make the transition to the Osprey.
HML-364 & HMM-364 used YK tail code until ~1971, when they switched to PF.

Deployed to South Vietnam with 32 CH-46D on 29 Nov 1967.

News of Marine Medium Helicopter Squadron 364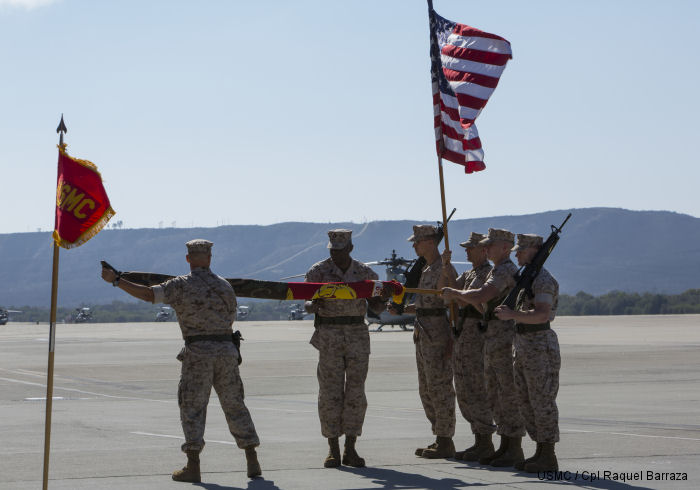 HMM-364 has redesignation ceremony, 10-Oct-14 : MARINE CORPS AIR STATION CAMP PENDLETON, CA by Cpl Raquel Barraza - Marine Medium Helicopter Squadron (HMM) 364 "Purple Foxes" held a change of command and redesignation ceremony aboard Marine Corps Air Station Camp Pendleton, Calif., Oct. 9.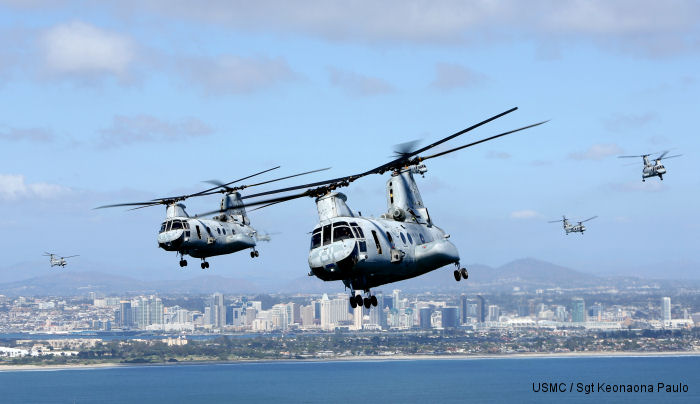 CH-46E Sea Knight final air show flight, 01-Oct-14 :

MARINE CORPS AIR STATION MIRAMAR, CA by Cpl. Owen Kimbrel - For decades, the CH-46E Sea Knight has served our country with honor, reliability and time tested dependability.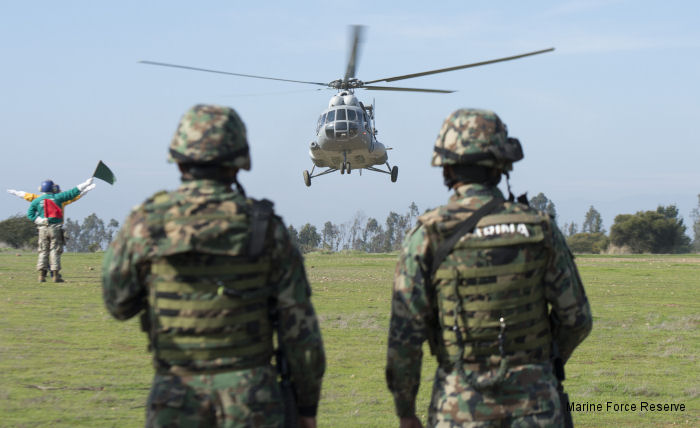 HMM-364 in Partnership of the Americas 2014, 17-Aug-14 :

FUERTE AGUAYO, Chile by 1st Lt Michael Hopkins - As a part of Partnership of the Americas 2014, service members from different nations spent the day getting familiarized with partner nation helicopters in order to increase proficiency in joint humanitarian assistance/disaster relief operations here, August 15, 2014.