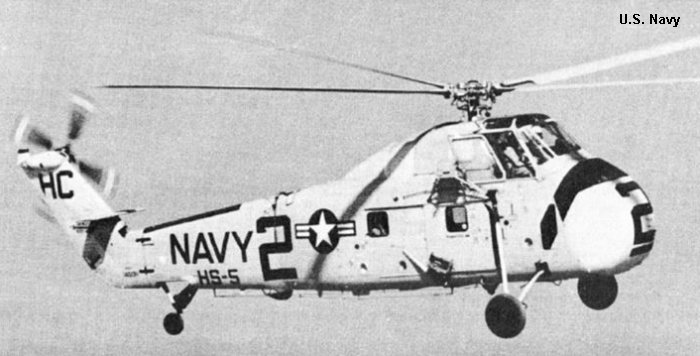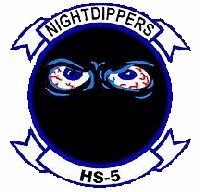 Established January 3rd, 1956,
Nightdippers
were scheduled to be redesignated Helicopter Sea Combat Squadron ( HSC-5 ) in 2009 when transition to the MH-60S Seahawk.
As of 2012, they still flew the SH-60F and HH-60H and assigned to CVW-7 aboard USS Dwight D. Eisenhower (CVN-69)
Nightdippers became
HSC-5
on January 2014
---
1959, I joined HS-5, Key West, FL. Moved to Quonset Point after tours on USS Tarawa and USS Wasp then Lake Champlain. Aviation Metal Smith 2nd Class

1961, I joined HS-5, it was home ported at Quonset Point RI with a squadron of 30 H-34 sonar dipping gear Helocraft. At that time the USS Lake Champlain (CVS-39) was our duty ship. Our mission was a part of task force which tracked USSR submarines in the North Atlantic which were usually home ported in Polionay, Russia. They had to come out to the Atlantic through the North Sea. Cruises were nine weeks to six months in duration. Most notable of those missions was the recovery ship for the first manned space flight when Commander Alan B. Sheppard, USN, road the first manned rocket in a Mercury 7 capsule down range from Cape Canaveral. On station, night dipping at night was particular dangerous on overcast nights with no discernable horizon. It wasn't until the SH3-A Sea King with twin jet engines arrived that new computerized IFR that HS-5 could truly become an all weather, 24/7/365 operational sub detecting unit.

1963 joined HS-5 at Quonset point . They were flying the SH-34J helicopter at the time . I was an AZ. Had many adventures aboard the USS Lake Champlain !! Was aboard when we picked up a space capsule !! I remember the capsule was boiling hot from coming thru the earths atmosphere . We ended up getting the SH3A jet helos . Ill never forget when they started having problems with the GE engines !! We were out at sea and one of them had a stalled engine and was having a major problem getting up on to the deck !! The highly skilled pilot kept gunning the working engine every time a big wave would come up . Finally he was able to get high enough to get it on the deck and saved a million dollar aircraft !!!! It was a great squadron !!!! Had deployments aboard the Independence and the Forrestal .Jerry Craig Aviation Administration Airman

1972, Joined the unit aboard the USS INTREPID the last straight deck carrier in Scotland. The squadron was based in Quonset Point, but moved to NAS Jacksonville. We deployed aboard CV-62 IN 1972,1973,1974 in the Mediterranean Sea where we assisted in Pan AM FLIGHT 370 SEARCH AND RECOVERY. Tracked enemy subs. Petty Officer Third Class Walter Sample AMS-4

1973-1976, I was a Naval Aviator assigned to HS-5. In February 1974, (not 1976) HS-5 transfered from Quonset Point (not Quonset State) Rhode Island to Jacksonville, Florida. During that period HS-5 deployed aboard the USS Independence, CV-62, flying the SH-3H model helicopter. Jerry L. Meyer, CDR, USNR Retired