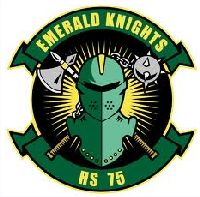 Established June 1, 1970, Emerald Knights have been stationed at NAS Lakehurst, NAS Willow Grove and NAS Jacksonville. The squadron has flown the SH-3D, SH-3G, SH-3H, UH-3H, SH-60F and HH-60H helicopters. At the time of closure had six SH-60F Seahawks. Disestablished March 1st, 2007
---
1972, When I was there we actually had some SH-3A models

1979, the squadron moved from Lakehurst to Willow Grove that summer. When graduating a school I had put in for hs75 @ Lakehurst but when my orders came in it was for Willow Grove. I reported there in Aug of 79.

1980-1984, I was at NAS Willow Grove with HS-75 Flying SH-3D ... Great Command!!

1983-1985, I was with 75, then transitioned and a Plankowner in HSL-94...great cammand!

1995, HS-75 had moved to NAS Jacksonville by the time I joined the command in mid 1995