Explosive Ordnance Disposal Mobile Unit (EODMU) 3, practice fast roping from HSC-15 MH-60S Seahawk onto USS Carl Vinson (CVN-70) during Operation Inherent Resolve, January 2015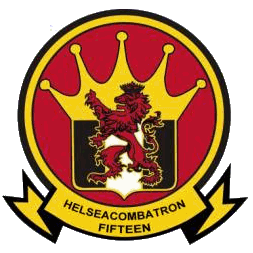 Red Lyons
, Helicopter Sea Combat Squadron FIFTEEN flies the MH-60S Seahawk.
Redesignated on November 15 2012 from former Helicopter Anti Submarine Squadron 15 (
HS-15
)
News of Helicopter Sea Combat Squadron FIFTEEN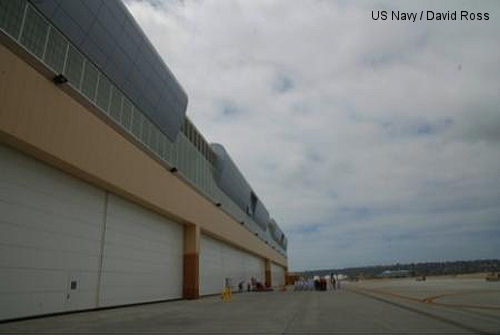 NAS North Island new Hangar 370, 09-May-14 : CORONADO, Calif. by Ensign Gia DeHart – Numerous dignitaries, military personnel, contractors, and their families attended a ribbon-cutting ceremony to officially open the Navy's newest helicopter hangar at NAS North Island April 25. This facility was designed with sustainable features and built to support the operations of three HSC squadrons.
New weapons capability for US Navy MH-60, 31-Mar-14 : PATUXENT RIVER, Md - A modernized rocket launcher will soon enable MH-60 Seahawk helicopters to carry and deploy a variety of weapons for the first time.
C/N
Version
Built
In this Org
In other Org
mh-60s
168530 : USN MH-60S Block IIIB; Aug12 red lion camo, HSC-15 /NA-610 USS Carl Vinson+

70-3850
mh-60s
168531 : USN MH-60S Block IIIB; Sep12 as HSC-15 /NA-25 asg USS Carl Vinson (CVN-70)+

70-3698
mh-60s
168532 NA-612 : USS Carl Vinson CVW-17

mh-60s
168535 : USN MH-60S Block IIIB; Jul13 HSC-15 /NA-613, USS Carl Vinson CVW-17

mh-60s
168536 : USN MH-60S Block IIIB; Jul13 HSC-15 /NA-614, USS Carl Vinson CVW-17

mh-60s
168537 : USN MH-60S Block IIIB; Jul13 HSC-15 /NA-615, USS Carl Vinson CVW-17

70-3919
mh-60s
168538 : USN MH-60S Block IIIB; Jul13 HSC-15 /NA-616, USS Carl Vinson CVW-17

mh-60s
168539 : HSC-15 /NA-617 asg USS Carl Vinson CVW-17 in Tri Tone Camoflauge scheme p+
: pictured (pic2) as HSC-15 /NA-617 USS Carl Vinson (CVN 70) in the Pacific +