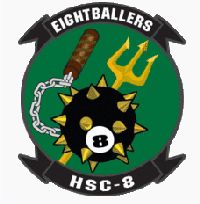 Eightballers
, redesignated from
HS-8
on September 28, 2007 at Naval Air Station North Island when transitioned to the MH-60S Seahawk variant.
In January 2009, HSC-8 went on its first deployment when joined by
HSM-71
aboard USS John C Stennis (CVN-74).
News of Helicopter Sea Combat Squadron EIGHT
HSC-8 celebrates mishap-free milestone, 24-Feb-13 : AT SEA, USS John C. Stennis (CVN 74) by Seaman Daniel Schumacher - Helicopter Sea Combat Squadron (HSC) 8 accumulated more than 20,000 flight hours without a class alpha mishap Feb. 22.
C/N
Version
Built
In this Org
In other Org
mh-60s
166311 : Oct14 HSC-8 /NG-2
: 04feb15 pictured as HSC-8 /NH-2 part of CVW-11 aboard USS Nimitz (CVN-68) +

mh-60s
167816 : USN; 2010 HSC-8 /NG-3; 2012 HSC-21 /VR-73

mh-60s
167854 : US Navy; 2010 HSC-8 /NG-5

mh-60s
167859 : US Navy; 2010 HSC-8 /NG-6

mh-60s
167863 : US Navy; 2010 HSC-8 /NG-3

mh-60s
167865 : USN; 2013 HSC-8 /NG-2

mh-60s
167867 : USN; 2013 HSC-8 /NG-7

mh-60s
167869 : USN; 2013 HSC-8 /NG-0, black/green CAG camo

mh-60s
167871 : USN; 2010 HSC-8 /NG-1; 2012 HSC-12 /NE-621; 2014 still

mh-60s
167875 : USN; 2013 HSC-8 /NG-4

mh-60s
168395 : USN; 2013 HSC-8 /NG-3