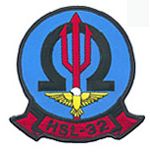 Invaders, tail code HV

1973-1976 - SH-2D
1973-1994 - SH-2F
---
1975-1976 in HSL-32. Made a 6 month Med cruise on the USS Ainsworth, first commissioned as DE-1090, but then reclassified as FF-1090. Six month cruise was extended twice for a total of 7-8 months. From the med we also traveled to North Atlantic and crossed the Arctic Circle and became Shell Backs. Spent a week liberty in the UK and then returned to the Med for the remainder of the cruise.nServed as an aircraft electrician and LSE on the Seasprite

1976-1979, Was a decorated AW aircrewman for HSL-32. Spent a lot of time playing softball and football for the squadron team's while in Norfolk. Deployed three times with Dets 2 & 7 aboard the T.C.Hart, McCandles , and J.C.Fuhrer -

Nov77, It was my first perminent duty station I was on det 7 we sailed to the Mediterranean and the Indian Ocean. My last cruise was south America. Those were some of the best times of my life you just had to deal with racism I learned that it's just part of our country's way of thinking. Their are people in this world in all races that are haterand I don't think that there is a thing we norMal people can do about it. I learn to out think them and enjoy my time in service I enlisted 2nov1977 and retired 30sep95 early out program

1977-1980 AW2 Randy Clough. I remember Rich Able. As I recall he had the unique hobby of creating crossword puzzles. I remember George Williams waking me up and telling me what happened. Rich was a good guy and I enjoyed our chats. I served with both George Williams and Derek Wilbur mentioned in the other threads. Deployed on both the Richard L Page (FFG-05) and the Donald B Beary (FF-1085)

1977-1981, AMH-2 Derek Wilbur I was attached to HSL-32 on Det-7 , Det 5 and Det 2. I worked with Able in the squadron , but never deployed with him . I remember him as being squared away and professional. I believe we were in the Med on the Richard L. Page when we got the word of his murder .We were in the Med and were called to the Indian Ocean during the hostage crisis. I made short cruises on the Miller, the Connole, the Beary, acouple of more I can't remember and 2 North Atlantics on the Carron. -

1979-1980 Seeking those who knew my friend AT2 Richard Thomas Able, USN, or may have photos. He was a member of HSL-32 when he was killed in a tragic accident while on liberty in Naples. Ship's name? As I understand he was in town making a phone call home to Norfolk. As he headed back to the ship he fell down a dark stairwell resulting in a fatal head injury. Richard left behind a pregnant wife and infant daughter. Richard and I were fellow barracks rats and classmates in A school. Thank you, Douglas Storie AT1 US Navy (Ret)

yes, I was attached to his squadron out of Norfolk and discovered his body along with our Master Chief in Naples. Our ship was the
USS Donald B Beary
(FF 1085). George Williams AD2 ( nbstc15 at aol.com )

1979-93, AW2 Bill McClure here, I was in 32. First cruise was on the Donald B Beary with Rich Able, Randy Clough and George Williams. Rich Able was a good guy, we all liked him very much. A very sad event.nRandy Clough was my senior AW (I was an AWAN/AW3) for the cruise, but he got out of the Navy about 1/2 through the deployment and it was just me to finish the cruise. That was my first det and by far the best deployment ever. The entire crew got along well, including the ships crew too. nI did 2 other dets on the Miller and Alwyn and then transferred to San Diego for H-60's. Finally retired in 2001 as AWC.nPosting this on April 17, 2023 and I'm not sure if anyone will see this. What a blast from the past.

1981-1983, I was an AW and sat crewman. I was on the
USS Clark
(FFG-11) for a 6 month deployment. Hopefully of me practicing search and rescue on that deployment

1981 - 1983 Ams1 (AW) Ken McNeil HSL-32 was my first squadron (2nd duty station). I deployed on the Aylwin With Bill McClure Was an AMSAN made 3rd and then 2nd while on Det 4. we lost the Duck (Buno 149032) 25 March 1982 while doing workups on Donald B Beary. all 3 crew survived all be it wet and cold. We were up in the north Atlantic. It was our oic's birthday. later I did A workup style cruise on
USS Miller
(FF-1091) before bugging to San Diego to the H-60's.

1984-1989, I was in HSL-32. My name is Barry Loyd. I was on the
USS Stark
when hit in 1987. I lost all those friends whom I call family. After another duty assignment I went back and decommissioned HSL-32 and 34. The last of the SH-2F. The gulf was of an all new design for the reserves.l retired in 2005

1991-1992, My name is Alton Franco. I am looking for people that was in my squadron. I was in a car accident during the Gulf War and would like to reconnect with some of them ( alton.franco at hotmail com )

Models
HSL-32 List of helicopters
C/N
Version
Built
In this Org
In other Org
34
UH-2A
149030 : 20oct91 SH-2F type pictured with HSL-32 on USS O Bannon (DD-987) as the sh+

-

36

w/o 1982

UH-2A
149032 : Kaman K-20 Seasprite, c/n 36, ff?; del USN as UH2K-1, 149032 unk; redesig +
: w/o 25mar82 lost at sea off of Martha s Vineyard area HSL-32 Det 4 on boar+

46

w/o 1984

UH-2A
149744 : Kaman K-20 Seasprite, c/n 46, ff?; del USN as UH2K-1, 149744, 1962; redesi+
: Jun/Dec 1982 as HSL-32 Det4 deployed on USS Aylwin (FF-1081) in the Medite+
: w/o 17aug84, crash at sea detatched to the USS Voge (FF-1047) from HSL-32 +

57

w/o 1979

UH-2A
149755 : Kaman K-20 Seasprite, c/n 57, ff?; del USN as UH2K-1, 149755 unk; redesig +

72

w/o 1993

UH-2A
149770 : Kaman K-20 Seasprite, c/n 72, ff?; del USN as UH2K-1, 149770 unk; redesig +

116

w/o 1984

UH-2B
150166 : Kaman K-20 Seasprite, c/n 116, ff?; del USN as HU2K-1U 150166 unk; redesig+

150166

153
UH-2B
151316 : 22jun90 SH-2F type HSL-32 /132 on board USS Pharris

158
UH-2B
151321 : HSL-32 /135-HV embarked on USS McCandless Oct 1982

174
UH-2B
152190 : US Navy; HSL-32./HV-68 visit
: 1975 pictured as HV-68/HSL-32 being refueled inflight from a ship

177

w/o 1973

UH-2B
152193 : Kaman K-20 Seasprite, c/n 177, ff?; del USN as HU2K-1U 152193 unk; redesi+

187
UH-2B
152203 : 1976 asg HSL-32 Det.7 at Norfolk, VA

192
SH-2F
161642 : 01aug86 pictured as HV-133/HSL-32 on USS Iowa (BB-61) during Northern Wedd+

204

w/o 1987

SH-2F
161654 : HSL-32 /HV-142, w/o 11jan87

228
SH-2F
162577 : 18apr88 pictured as SH-2F HV-137/HSL-32 being refueled on USS Wainwright (+

3053

Helicopter Anti-Submarine Squadron Light 32 Operations