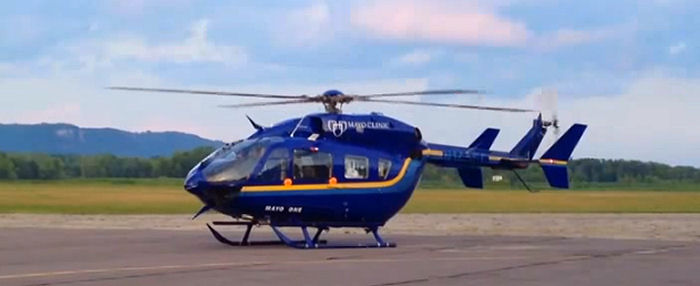 Mayo One, an emergency medical helicopter service, provides high-level critical care and rapid transportation within a 150-mile (241-kilometer) radius of bases at:
Mayo Clinic, Rochester, Minnesota
Mankato Regional Airport, Mankato, Minnesota
Chippewa Valley Regional Airport, Eau Claire, Wisconsin
---
September 2022, Mayo One is has taken delivery of S/N 21132 H145-D3 with assigned tail number N483WC. No assigned base of operation yet but will likely replace N145MC initially. This is the first of 3 replacement H145 D3 ships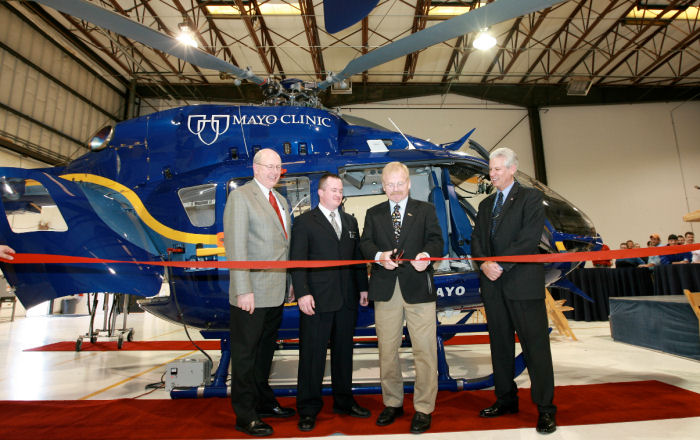 20-Dec-07 -

Mayo Clinic in Rochester, Minnesota received first of two EMS EC145. first aircraft of its type to be completed for a customer outside of Air Methods.
Models
Mayo One List of helicopters
C/N
Version
Built
In this Org
In other Org
9181
ec145
2008
N145EC : Mayo One, is based at Eau Claire, WI; EC for Eau Claire

9120
ec145
2007
N145MC : Mayo One based at Mankato, MN, test serial D-HADE; MC for Mayo Clinic. th+

9298
ec145
2009
N145SM : Mayo One, based at the Mayo Clinic in Rochester, MN; SM for Saint Marys

9637
ec145
2013
N145SZ : US Bank NA at Portland, OR from Jul16

N157AH

21132
bk117d3
2022
N483WC : ntu late 2022

N483WC

7253
bk117b2
1998
N911SM : St Marys Medical Center at Duluth, MN; Mayo One ?

N911SM
N911SM