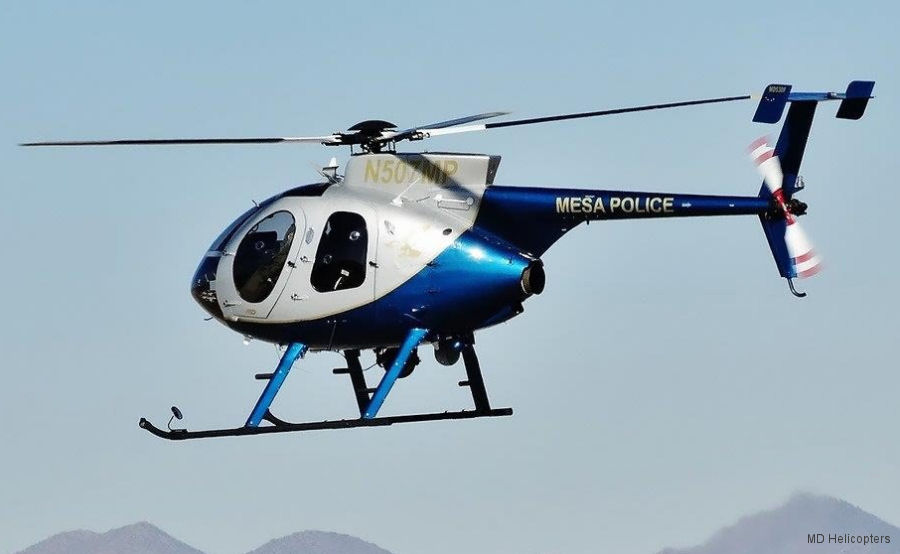 Established 1986, the Mesa Police Department Aviation Section is based at Falcon Field. The first helicopters, 2 MD500E arrived in January 1994 with a third added in May 2003.

Mesa Police helicopters average nearly 8 flight hours per day, seven days per week, and answers an average of 18 calls each day.

These helicopters also used in firefighting.
News of Mesa Police Department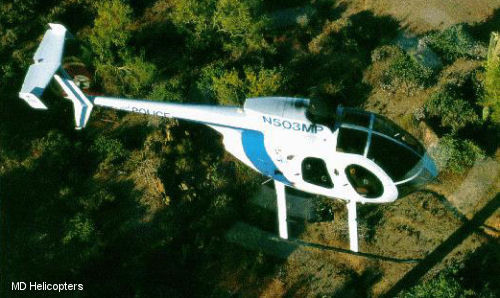 Mesa Police Department Orders New MD530F, 04-Mar-15 : MD Helicopters (MDHI) announced sale of a new MD530F for the Arizona Mesa Police Department Aviation Unit to be delivered in spring 2015 as an addition to their existing fleet of two MD500E.
Years
Models
McDonnell Douglas MD369E / MD500E
MD Helicopters MD500E
MD Helicopters MD530F


Mesa Police Department List of helicopters

Help Us
C/N
Version
Built
In this Org
In other Org
0414E
md500e
1990
N503MP : MESAPD Aug95-Nov12; pictured

- N1608L
- C-FHMM
- N7093S
- ZK-HLS

0428E
md500e
1990
N504MP : Mesa Police Department (MESAPD), reser N584MP

- C-FMHI
- N7093N
N921SD

0523E
md500e
N504MP : MESAPD Mar96-Dec16 , ex N52323; 08jun14 failure engine, no fatalities; pic+

- N377LW

0558E
MD500E
2001
N505MP : MESAPD from Apr03, pictured; Jan20 still

- N7049F

0541E
md500e
1998
N506MP : MESAPD from Oct09

- N9211D
- N500TV
- N500TB

0226FF
MD530F
2015
N507MP : MESAPD from Jun15

N60426