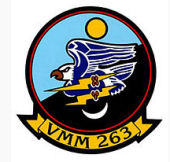 Created from
HMM-263
, the
Thunder Eagles
, tail code
EG
, was the first operational MV-22 squadron. They start training on the new aircraft on June 13, 2005 and was officially reactivated on March 3, 2006.
On September 17, 2007 they deployed 10 Ospreys to Iraq aboard the
USS Wasp
(LHD-1)
Squadron name Thunder Eagles is also represented by the tail code EG.

18-Aug-20 -

Saber Junction 20 kicked off at Hohenfels Training Area, Germany with the US Army Europe 12th Combat Aviation Brigade and the 22nd Marine Expeditionary Unit. This year also participating are Albania, Georgia, Latvia, Lithuania, Moldova, North Macedonia, Romania and Ukraine.

#SaberJunction
Models
Marine Medium Tiltrotor Squadron 263 Operations