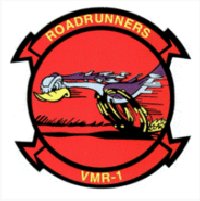 The
Roadrunners
history trace back to the formation of Station Operations and Engineering Squadron (SOES) in 1941 at Cherry Point. Aircraft Engineering Squadron 46 (AES-46) was commissioned in 1943 which was redesignated as the current Marine Transport Squadron One (VMR-1) in 1997.
1974-1980 : HH-46A
1980-2006 : HH-46D
2006- : HH-46E
By November 2012, VMR-1 was the
last Marine squadron
on the East Coast that flies the H-46.
On September 2014, VMR-1 became the last remaining Marine Corps squadron to fly the Sea Knight.
News of Marine Transport Squadron 1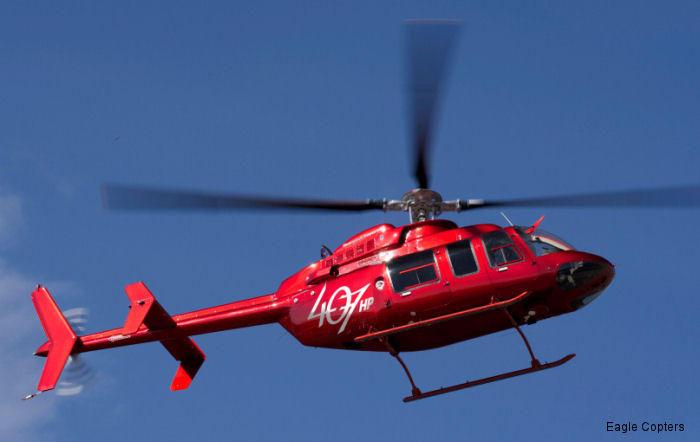 407HP Receives FAA Approval for IBF, 21-Jul-16 : Eagle Copters Ltd announced its Eagle 407HP, a Bell 407 re-engined with a Honeywell HTS900, received Federal Aviation Administration (FAA) certificate for own inlet barrier filter (IBF)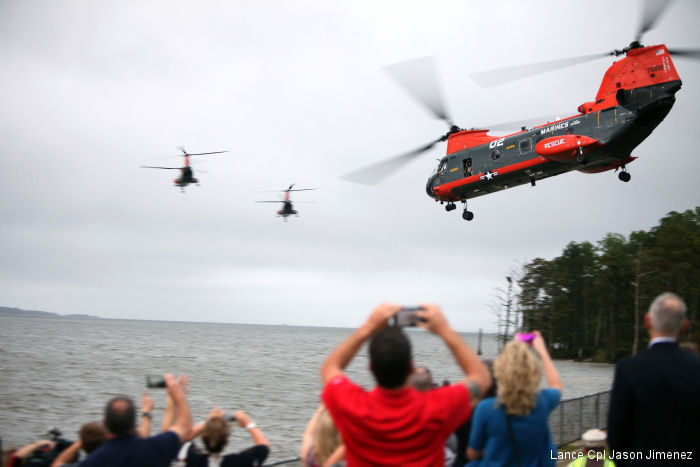 MCAS Cherry Point Conducts Final H-46 Flight, 25-Sep-15 : The three remaining HH-46E search and rescue models, commonly known as "Pedro" assigned to Marine Transport Squadron 1, the last DoD Sea Knights, will retire from service on Sept.29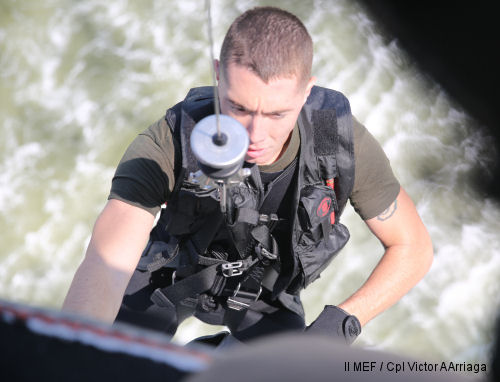 VMR-1 Casualty Evacuation Drill Over Water, 07-Aug-14 : Marine Transport Squadron 1 (VMR-1) supported a casualty evacuation drill outside of Marine Corps Air Station Cherry Point in conjunction with Coast Guard central security forces July 30
C/N
Version
Built
In this Org
In other Org
2060
CH-46A
1964
151912 : BV-107M, c/n 2060, ff?; del USMC 24Feb65 as CH-46A 151912; asgd Boeing FR +

2098
CH-46A
1965
151948 : BV-107M, c/n 2098 ff?; del USMC 23Sep65 as CH-46A 151948; asgd Beoing FR M+

2546
CH-46F
1969
156476 : BV-107M, c/n 2546, ff?; accepted BuWepsRep, FR, Morton, PA as CH-46F 15647+
: 09nov12 VMR-1 /00 pictured during ceremony of last H-46 delivering by FRC +
: 28aug15 as VMR-1 /00 (CAG) in a fly The Barn over eastern North Carolina

- 156476 : preserved as a flying exhibit at the Vietnam Helicopters Museum, Concord, +

2577
CH-46F
1969
157678 : BV-107M, c/n 2577, ff?; accepted BuWepsRep, FR, Morton, PA as CH-46F 15767+
: Jun08 HH-46E Pedro type as VMR-1 /01 MCAS Cherry Point; 2010 still
: 28aug15 pictured (pic3) as VMR-1 /01 in a fly The Barn over eastern North +

2587
CH-46F
1970
157688 : BV-107M, c/n 2587; accepted BuWepsRep, FR, Morton, PA as CH-46F 157688 10A+
: 12jan10 pictured (pic2) as HH-46E Pedro type VMR-1 /02 at NAS Cherry Point
: 28aug15 as VMR-1 /02 in a fly The Barn over eastern North Carolina

- 157688 : 01apr16 pictured (pic3) flown from MCAS Cherry Point to Classic Rotors Mus+

2591
CH-46F
1970
157692 : BV-107M, c/n 2591, ff?; accepted BuWepsRep, FR, Morton, PA as CH-46F 15769+
: 28aug15 pictured (pic2) as VMR-1 /03 in a fly The Barn over eastern North +