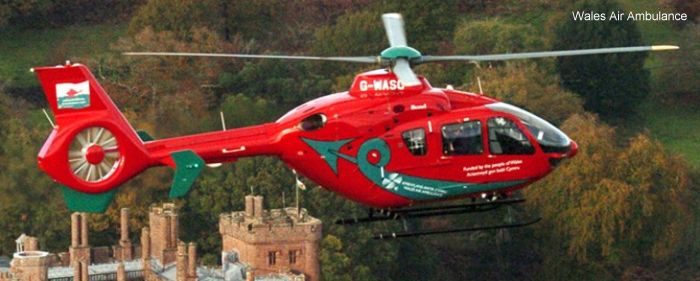 Elusen Ambiwlans Awyr Cymru
/ Wales Air Ambulance Charity (WAAC) was based at the Swansea Airport and operated by
Bond Air Services
which acquired by
Babcock
from 2016.
From 2017 operates three brand new H145/EC145T2 models from bases in Welshpool, Caernarfon and its new headquarters in Llanelli. The fourth helicopter, which is the dedicated
children's aircraft
for neo-natal transfers, will remain an EC135.
In Aug 2018, WAAC took over the lease to Cardiff Heliport.
In 2019:
Helimed 57
was based at the Dafen HQ, near Llanelli,
Helimed 59
was based at Mid Wales Airport near Welshpool and
Helimed 61
was based at Caernarfon, near Dinas Dinlle.

News about Wales Air Ambulance
More News ...


Models