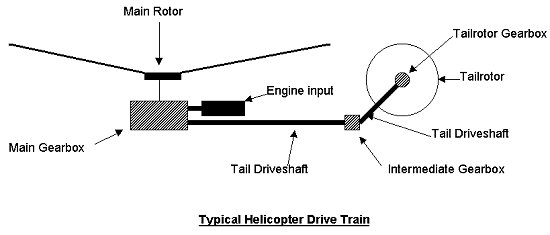 As we have already seen at
Principles of Rotary Flight
the tail rotor main function is to pull against torque reaction and hold the helicopter straight.
But also, by applying more or less pitch (angle) to the tail rotor blades, it can be used to make the helicopter turn left or right, becoming a rudder.
The pilot use the tail rotor pedals, on the floor, to control the pitch of the tail rotor. For straight flight, the pitch of the tail rotor is set to prevent the helicopter from turning to the right as the main rotor turns to the left. The pilot pushes the left pedal to increase the pitch of the tail rotor and turn to the left. Pushing the right pedal decreases the pitch of the tail rotor and turns the helicopter to the right.
The tailrotor in normally linked to the main rotor via a system of driveshafts and gearboxes, so both are usually connected to the same transmission, meaning that if you turn the main rotor by hand, the tailrotor will also turn.
Most helicopters have between a 3:1 to 6:1 ratio. (In the first case, every time the main rotor turns one rotation, the tail rotor makes three revolutions) For example: If the main rotor is turning at 324 RPM, then the tail rotor turns at 1944 RPM at 6:1.
In most helicopters the engine turns a shaft that connects to an input quill on the transmission; the main rotor mast comes straight out of the top of the transmission and the tailrotor driveshaft connects to an output quill 90 degrees out from the mast. See also
NOTAR
in
Rotor Configuration
article.
| | | |
| --- | --- | --- |
| | User Contributed Notes | |
| | | |
| | Add note to this page | |