Monday December 23, 2002
BA609 Tests Set Stage For First Hover Flight
ARLINGTON, Texas, USA ( EDWARD H. PHILLIPS for Aviation Week Magazine ) - The world's first commercial tiltrotor initiative is moving forward with FAA certification planned for January 2007 Bell/Agusta Aerospace Co.'s BA609 has begun six weeks of crucial systems tests that company officials expect will lead to first flight of the aircraft early next year.
Bell Helicopter Textron Chairman/ CEO John Murphey said the BA609 trials represent a "new benchmark in aviation history." In his view, the aircraft "will revolutionize air transportation." Both engines of the first preproduction BA609 were started on Dec. 6 at Bell's Flight Research Center here, where a majority of the aircraft's test program will be conducted. About 50 hr. of testing is scheduled for completion before the aircraft can be approved to make its first hover flight. Company officials are confident, however, that the BA609 will fly in either late January or early February, barring any major technical problems with hardware or software.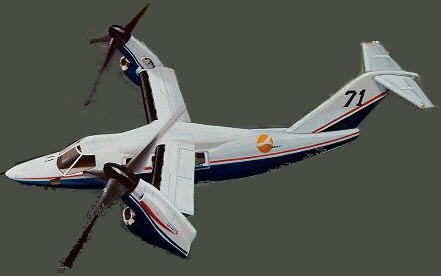 DURING THE PAST YEAR, progress on the program had been slowed dramatically because of two fatal crashes in 2000 involving the Bell Boeing V-22 military tiltrotor. That aircraft, however, has resumed flying at NAS Patuxent River, Md., and is advancing slowly through an exhaustive flight test program ( AW&ST Dec. 2, p. 33). As BAAC officials are quick to point out, the BA609 is a different aircraft than the V-22 and is designed to commercial, not military, regulations and requirements and will be subject to a different set of certification standards. How rapidly the BA609 program progresses, however, is tied to continued success of the MV-22 for the U.S. Marine Corps.
"Overall, the outcome was very positive, and we look forward to further testing of the BA609," said Jack Gallagher, director of the BA609 program for Bell/ Agusta Aerospace Co. For the initial runs, the BA609 was secured on a rotor test stand platform previously used to test dynamic rotor components for the Bell Boeing V-22 military tiltrotor during the late 1990s.
The platform allows the aircraft to be tied down for testing while still permitting full transition of the nacelles between helicopter and airplanes modes. The transition takes about 20 sec. in either direction, according to Gallagher. Conversion is accomplished through dual ball screws on each actuator and dual hydraulic drives for each nacelle that include clutch and brake arrangements. Three computers control the actuators, and both electrical and hydraulic power installations feature triple redundancy and are separate systems. Three coincident failures would be required to stop an actuator, according to John Magee, lead engineer for the BA609.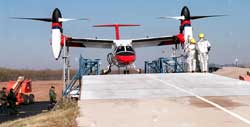 "The initial ground runs gave us the opportunity to check many of the parameters of the systems, and we found that some of them needed adjustment," Gallagher said. "We received a few caution advisories on the systems, but nothing we did not expect." In addition, hydraulic and fuel systems were inspected for leaks. Bell test pilots Roy Hopkins and Dwayne Williams were at the controls of the aircraft during the ground runs and are scheduled to fly the BA609 on its first flight, Gallagher said.
Before the engines were started, Hopkins ran a series of "dry runs" using the starter only and without introducing fuel to the Pratt & Whitney Canada PT6C-67A turboshaft powerplants. After these checks were completed and adjustments made to fuel system components, both engines were started and run at flight idle (50% gas generator rpm.) to investigate rotor balance, according to Gallagher.
"We're going to do a lot of proprotor parameter checks early in the testing," including evaluations of the proprotors during transition between helicopter and airplane modes, he said.
Pratt & Whitney Canada already has completed more than 1,000 hr. of engine runs at its facilities near Montreal, according to Gallagher. Production engines will be slightly different from those in the preproduction BA609, and will each be rated at 1,940 shp. (sea level, standard day). The same engines will be used in production Agusta/Bell AB139 helicopters developed by BAAC. The AB139 is currently undergoing flight tests in Italy and is scheduled for Italian certification in the second quarter of 2003.
Another key element of the first round of BA609 testing was ensuring proper operation of the aircraft's data telemetry systems, which will be used throughout the flight test program. Following the initial tests on Dec. 6, a team of engineers and mechanics worked on the aircraft during the weekend, making a series of corrective actions to systems components. Although plans called for testing on Dec. 7 and Dec. 8, inclement weather delayed the resumption of engine runs until Dec. 10.
"WE ARE IN THE PROCESS of putting together a detailed plan for assembly of ships 2, 3 and 4, and expect to finish that planning by the end of first-quarter 2003," Gallagher said. Bell is in negotiations with AgustaWestland to determine the exact schedule for assembly of the three airframes as well as how costs will be distributed between the two companies. Gallagher anticipates a 36-month flight test program to certify the BA609. The first aircraft will be used chiefly to expand the flight envelope. The second, third and fourth aircraft will be dedicated to systems certification, avionics and icing approvals, and FAA Function and Reliability flights.
Static and fatigue tests of the primary airframe structure are scheduled to begin in the first quarter of 2003 and continue for one year, according to Gallagher. BAAC engineers expect to perform fatigue tests and analyses equivalent to more than 40,000 hr. of service for the airframe--twice the aircraft's intended life of 20,000 flight hours, according to Donald J. Barbour, executive director of BAAC's civil tiltrotor program. Testing of all safety-of-flight major components has been completed, he said.
Barbour said the BA609 will be certified to FAA Part 29 and Part 35, and will meet stringent Category A performance standards for takeoff under one-engine inoperative conditions. At its maximum takeoff weight of 16,800 lb., the aircraft would be capable of lifting to a hover at sea level, ISA +20C. If an engine failed, the pilot would have the option of continuing the departure and climbing, or landing back on the helipad. Bell reports having more than 85 orders for the BA609 from 40 customers in 18 countries.
If the program continues and a decision to produce the aircraft is made, final assembly, testing and customer delivery in the U.S. would occur at Bell's facilities in Amarillo, Tex. A separate assembly and delivery pipeline for European customers would be established at Agusta's facilities in Italy, according to BAAC Managing Director, Jim Rogers. Production fuselages would be built by Fuji Heavy Industries in Japan, and all parts and components for both assembly lines would be procured from the same source, "yielding aircraft that will be identical, whether assembled in Texas or Italy," according to Bell. BAAC headquarters is located at the Alliance Airport north of Fort Worth. A customer training center is planned at the Alliance base, and would include classrooms and simulators for both pilots and mechanics. A supplier for the full-flight simulators has not been chosen, nor have FAA and BAAC officials agreed on all aspects of the training curriculum for pilots.
The BA609 is projected to have a cruise speed of 275 kt. at 25,000 ft., and would be equipped with an anti-icing system on the proprotors and a deicing system on the wings. The cabin, which is designed to accommodate up to nine passengers, would be pressurized to a maximum differential of 5.5 psi. Gallagher said the preproduction aircraft is equipped with a fly-by-wire flight control system, and BAAC will seek FAA approval for dual- and single-pilot operation under instrument flight rules. Range with standard tanks is estimated to be 750 naut. mi. (no reserve), or 1,000 naut. mi. with optional auxiliary fuel tanks. Useful load is projected to be 5,500 lb. Base price for a typically equipped aircraft has not been determined.
In addition to use by business aviation operators, Barbour foresees the BA609 as an alternative to fixed-wing aircraft and helicopters flown by charter and air taxi companies, law enforcement agencies and offshore oil transport operators.