Friday July 22, 2005
World's first civil tiltrotor, BA609 reaches nearly 220 mph With first full conversion to airplane mode
Arlington, Texas, USA ( Bell/Agusta Press Release ) - The Bell/Agusta 609 tiltrotor streaked over the skies of Central Texas today with its outboard nacelles rotating forward to full airplane mode for the first time. Roy Hopkins, 609 project pilot and Bell pilot Jim Lindsey were at the controls when the BA609 reached full airplane mode at 9:23 am CDT. Both are highly experienced tiltrotor pilots with flight time logged in both the V-22 Osprey as well as the XV-15. When making its first transition to airplane mode this morning the BA609 today flew at 190 knots (219 mph).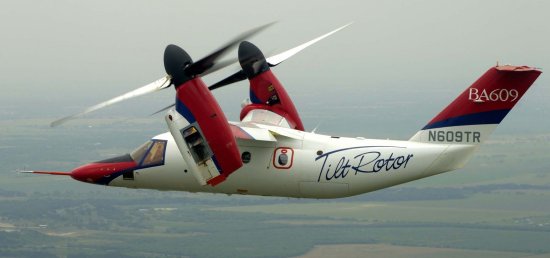 "Jim and I thought the aircraft flew as expected and the vibration level was very low. This was the culmination of months of dedicated effort from engineering and manufacturing personnel and everyone should certainly be proud!" Mr. Hopkins stated.
With its nacelles in the vertical position, the tiltrotor takes-off, lands and hovers like a traditional helicopter. When the nacelles are tilted forward to the horizontal position, the aircraft flies with the high speed and range of a turboprop fixed-wing airplane.
The aircraft returned to flight status June 3, 2005, at Bell's XworX research and development facility here following an 18-month programmed pause in flight-testing for developmental engineering configuration. "This is truly a momentous point in aviation history because we have finally achieved the full range of flight on the BA609, the world's first civil tiltrotor," declared Bell/Agusta Programs Executive Director Jack Gallagher, adding, "this changes everything in vertical lift and general aviation."
BA609 Aircraft #02 is at Agusta's assembly and flight-testing facility in Italy, where tests are progressing in support of Aircraft #01. Aircraft #02 is scheduled to make its first flight during the 4th Quarter of this year.
The BA609, a six to nine passenger aircraft, has market applications for corporate business, offshore operators and government customers for a variety of roles including search and rescue, and internal security team insertion.

Bell/Agusta Aerospace Company is a joint venture corporation between Agusta/Westland and Bell Helicopter.
AgustaWestland , a Finmeccanica company, with primary operations in Italy, United Kingdom and USA, is a commercial enterprise offering an unrivaled range of products designed to satisfy the most diverse requirements of civil and military customers. With turnover exceeding $2.5 billion, AgustaWestland is committed to delivering outstanding products and services in globally competitive markets.
Bell Helicopter , a Textron Company, is a $1.6 billion, leading producer of commercial and military helicopters, and the pioneer of the revolutionary tiltrotor aircraft. Globally recognized for customer service, innovation and superior quality, Bell's global workforce of over 8,500 employees serves customers flying Bell aircraft in over 120 countries.